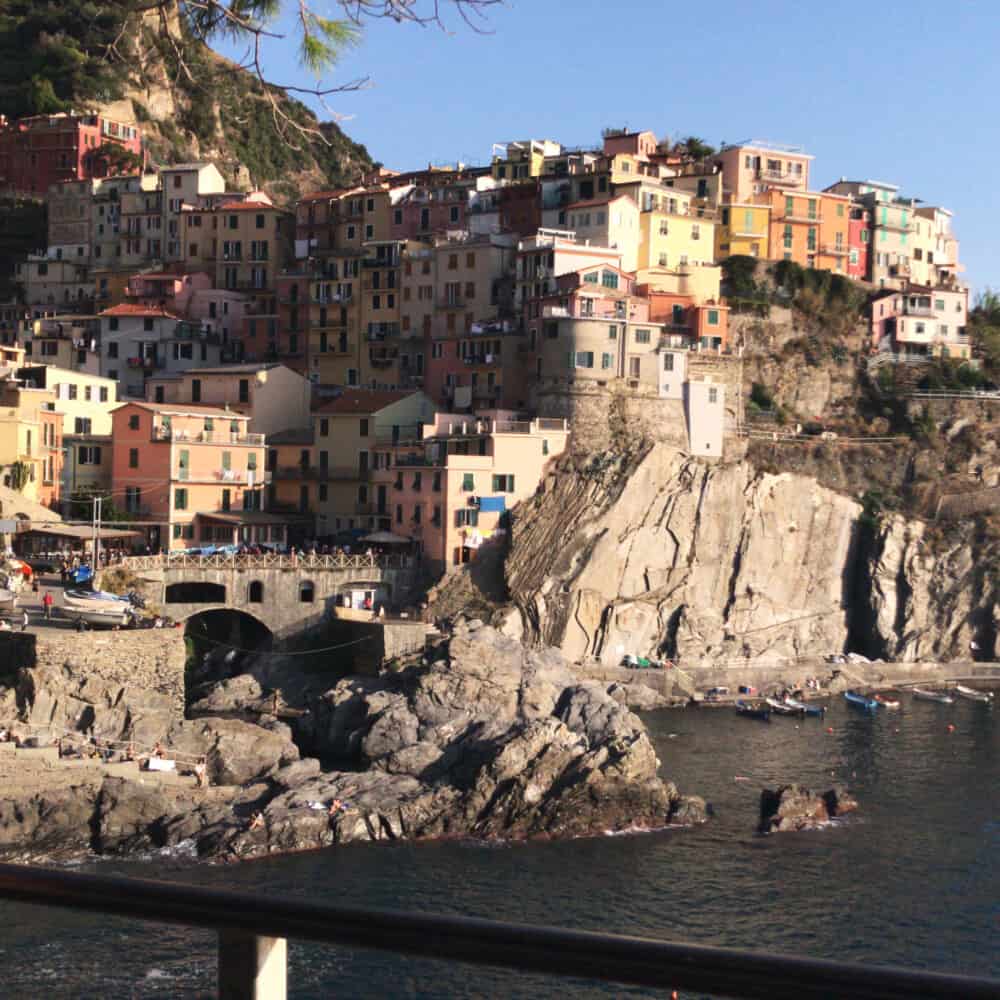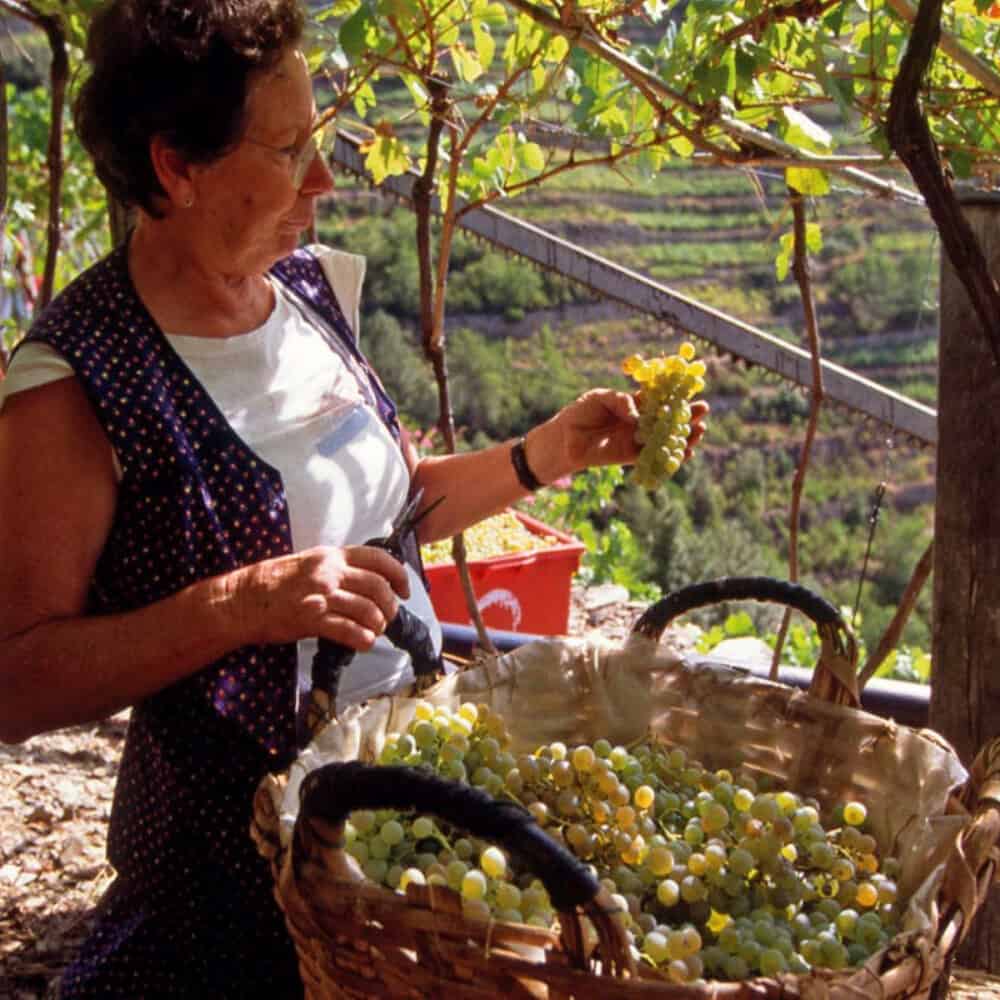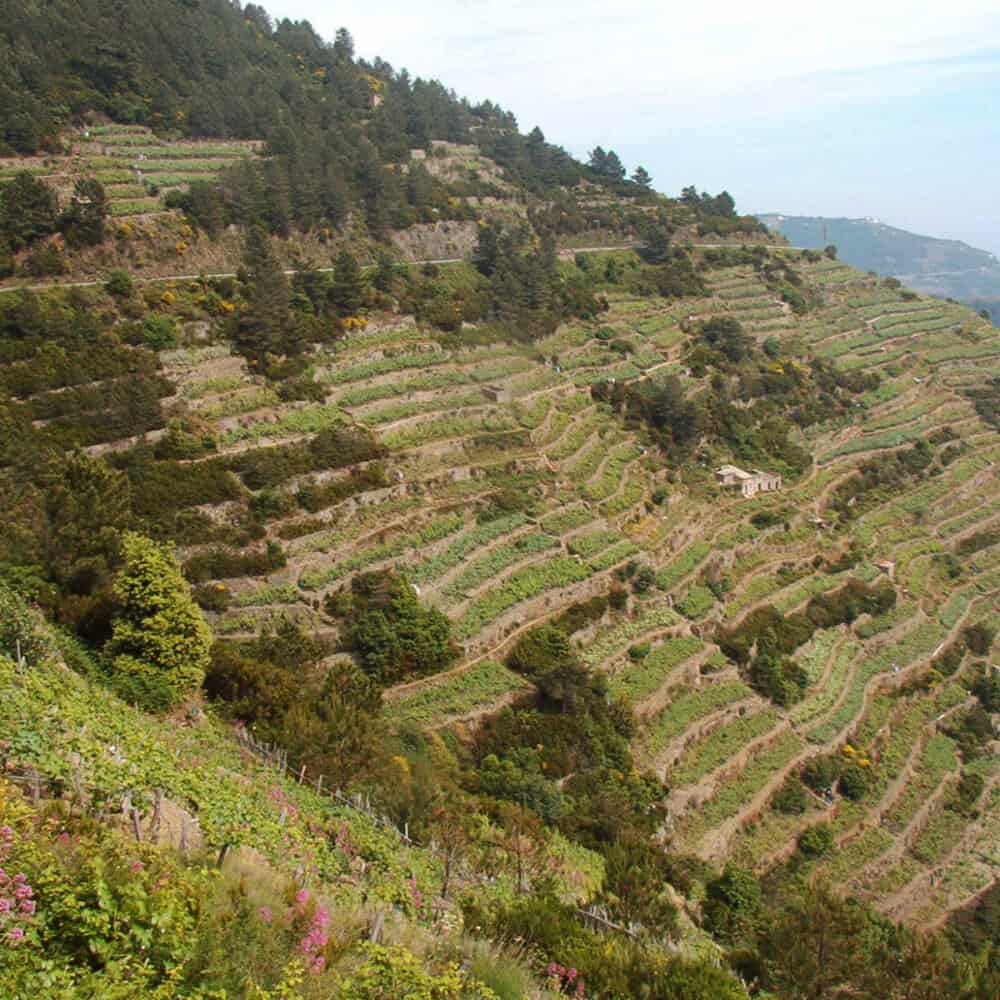 Cinque Terre Trekking & Wine Tour. Join our small group of walkers to cross this magic land shared between the mountain and the ocean
On this tour we share 7 days and 6 nights inside the Natural Reserve Parco Nazionale delle Cinque Terre. You can join us as a single, a couple or as a small group of friends. Born from the experience of the past years with guests from all over the world and our passion for walking, this tour is an experience for a selected group of maximum 12 people.
The base for the week of the Cinque Terre Trekking is the small fishing village of Riomaggiore. Each day we walk a section of the famous path that crosses the area from South to North along the coast of Liguria. To connect the various paths we use private minivans but also the fast local train that in a few minutes connects the villages of the Cinque Terre.
7 days, 6 nights
Or GO PRIVATE! Contact us to reserve a custom departure on your preferred dates
Meet & Depart: Pisa
Accommodation: Boutique hotel in the fishing village of Riomaggiore
HIGHLIGHTS
Walk along the Unesco Heritage tracks of the National Park of the Cinque Terre
Live the experience of the micro fishing villages along the coast
Meet the owners and their families escorted by Italians
Take the most amazing pictures you have ever done!
Taste and understand interesting wines with expert winery guides
Private English-speaking guide for the entire week
What's included
accommodation for 6 nights with breakfast by a nice hotel in Riomaggiore
English speaking food&wine expert tour leader
The ticket to access the National Park for the week
Private Luxury mercedes Benz Minivan for the transfers as described
Train Tickets for the daily short transfers
2 private tours and tastings in the best cellars of Cinque Terre
the lunches with wine
reservations for dinner in selected restaurants (order a la carte and pay directly on spot)
reservations, taxes, program and our pampering care!
What's not included
any additional services to extend the trip
tips
anything that is not included in the section "Included"
Day 1 – Sunday
We will meet in Pisa airport and by minivan we transfer to Riomaggiore
Reservation for dinner by a selected restaurant
Day 2 – Monday
Hike Riomaggiore – Portovenere –> 13 km, 700m+
Lunch in Portovenere by a small spot
Free time to visit the village and the cliffs from where you can admire a wonderful landscape
Transfer back by minivan and reserved dinner by a little fishing restaurant
Day 3 – Tuesday
Hike Riomaggiore – Manarola – Corniglia –> 6km, 500m+
Lunch in Corniglia followed by a little of time to explore on foot the village
Transfer back by train and free time in the afternoon to rest bye the hotel. Later we visit a winery led by the owner who will also guide us to taste his 5 wines. Dinner will be reserved by a selected restaurant in town
Day 4 – Wednesday
Transfer to Corniglia by train
Hike the mountain trail Corniglia – Case Fornachi – Vernazza –> 7.5km, 550m+
Let's enjoy the view of the Mediterranean Sea from the restaurant where we have lunch in Vernazza. Later we will have some time to visit the village on foot.
Transfer back by train and reservation for dinner by a fine restaurant
Day 5 – Thursday
Transfer to Corniglia by train
Hike the cliffs' trail Corniglia – Vernazza – Monterosso –> 7km, 400m+
Lunch in Monterosso. Free time to visit the village. Transfer back by train.
Tonight, for sinner we will be hosted by a local winery to enjoy the tasting dinner with a spectacular view on the Cinque Terre
Day 6 – Friday
Transfer to Monterosso by train
Hike Monterosso – Levanto –> 7km, 550m+
Lunch in Levanto followed by some free time to visit the village on foot
Transfer back by train and reservation for the farewell dinner by a selected restaurant
Day 7 – Saturday
10.00 – Check-out and transfer to Pisa airport
Trek Type: Chain path made of daily sections (short transfers by train or minivan to/from start/end points)
Level: simple/intermediate
Distances: Total: 35 km (22 miles). Easy stages of 3-5 hours walking per day
Average Daily Elevation Gain: Climb 400m (1.300 ft). Down 400m (1.300 ft)
Landscape: Forest paths, dirt roads, low traffic roads in a unique landscape of vineyards and olive groves and forest on the cliffs among the ocean, the sky and the mountain
Monterosso
Levanto
Manarola
Vernazza
Corniglia
Riomaggiore
Portovenere
Typical Ligurian cuisine, homemade delicacies, "merenda" snacks at the wine cellars…
Fresh fish, Pecorino cheese, honey, Caciucco soup, cold pressed extra-virgin olive oil, Sciacchetrà wine and much more…
FAQ
Can you pick us up/ drop off in Florence/Rome/etc …?
Yes of course. We will provide you, before the booking, a specific quote for this extra service.
Is this trekking too hard for me?
This is an easy-intermediate trek for everyone with some very steep sections made of steps and others where we pass along really narrow tracks where you must have attention. We will stop as many times as you would like to explain about the area, its flora and fauna, to relax and to take pictures in the best spots. Be prepared to walk for 2-5 hours each day.
Which kind of equipment should I bring with me?
Trekking boots or shoes (as you are more comfortable), sunglasses, sunscreen, hat, a small backpack, a water bottle or a camel bag, an eventual k-way if the weather will be windy, and a swimming suit.
I have to bring all the luggage with me during the day?
No because the hotel will be the same for all the week. We will move fast by train to reach the starting point.
Can you pick us up/ drop off in Florence/Rome/etc …?
Yes of course. We will provide you, before the booking, a specific quote for this extra service.
Are kids admitted on this tour?
Yes, we love kids in Italy and they are always welcome. Be sure your kids can walk all the daily distances or be equipped to transport them on your shoulder 🙂
Can we ship wine back home?
Yes: we will assist you during the purchase and we can also store all your bottles by our refrigerated deposit in Montalcino until you will be back at home to receive the shipment.
Pickup Points: Pisa.
Departures: April 18th, 2021
Season: From April to October
Pay safe with ...

Would you like to modify this tour or design your own experience in Tuscany?
Let us know your needs and wishes and we will tailor the perfect program for your trip to Italy.