During the month of May, getting together with friends and snacking on pecorino cheese and raw fava beans on the cobblestone streets of some of our wonderful medieval hamlets or lying in a field somewhere is more than a tradition, it is a must and a truly healthy snack for all gourmands.
The Tuscan cheese production has a really long tradition, it seems since the Etruscan times, but the real dairy explosion is much more recent. Well, one step at a time…
Even if it is hard to imagine now, young Rome was surrounded by pastures where sheep grazed in great numbers. Obviously, these sheep provided a steady stream of milk. Also, there was a good supply of salt from the seaside town of Ostia, and the Romans had a monopoly on salt after winning the Punic Wars, therefore the cost of making cheese in Rome was low.
Overtime, Pecorino, from the Italian word "pecora" meaning sheep, became a staple in the rations for Roman legionaries and Latium citizens' everyday diet. Pecorino remained a predominantly Roman delight up until 1884 when the local administration banned the salting of cheeses in local cheese shops (salt taxes have always had a huge impact on Italian economy in the past), and the pecorino production moved to the island of Sardinia where it flourished until the end of WWII.
After the war, Italy was a really poor place causing mass migrations. Many Italians left the country while others, especially Sardinians, moved to Tuscany where the locals were abandoning their farms. Of course, the Sardinians brought with them their sheep and their cheesemaking methods. That is how a massive cheese production arrived in Tuscany.
And if you are a cheese lover, you will also find a wide choice of products here in our amazing region. In top position, of course, there is a large selection of fresh and aged Pecorino cheeses. In Tuscany, sheep farming is widespread, but the highest concentration is located in the provinces of Siena and Grosseto. You can find many different versions of Pecorino which vary according to the zone, the pasture grasses, and the method used.
Pecorino Toscano Dop
Pecorino Toscano Dop is the king of our cheeses. It is produced throughout Tuscany and is one of the three Tuscan cheeses with the European quality designation label: the DOP.
DOP stands for Denominazione di Origine Protetta, in English Protected Denomination of Origin. The unmistakable characteristic of fragrant pastures on the Tuscan hills is extracted from pure sheep's milk. Its texture is either soft or medium hard making it sometimes difficult to cut. The color varies from white in the fresh cheeses to straw yellow in the aged variety. It is fragrant, strong, harmonious, and unique.
Caciotta Toscana
This fresh cheese is made from a combination of milk, mostly cow's milk and partly sheep's milk. It is straw yellow in color and fresh tasting. Produced all over Tuscany, the best Caciotta is made in springtime.
Marzolino
Sheep cheese with a well-defined taste aged for a minimum of 30 to a maximum of 180 days. Originally from the Chianti region, it is currently produced mostly in the Crete Senesi, Val d'Orcia, and Maremma areas of Tuscany. Its high quality comes from the quality of the milk in spring (March is Marzo in Italian, hence its name), limited in quantity but very rich.
Pecorino delle Crete Senesi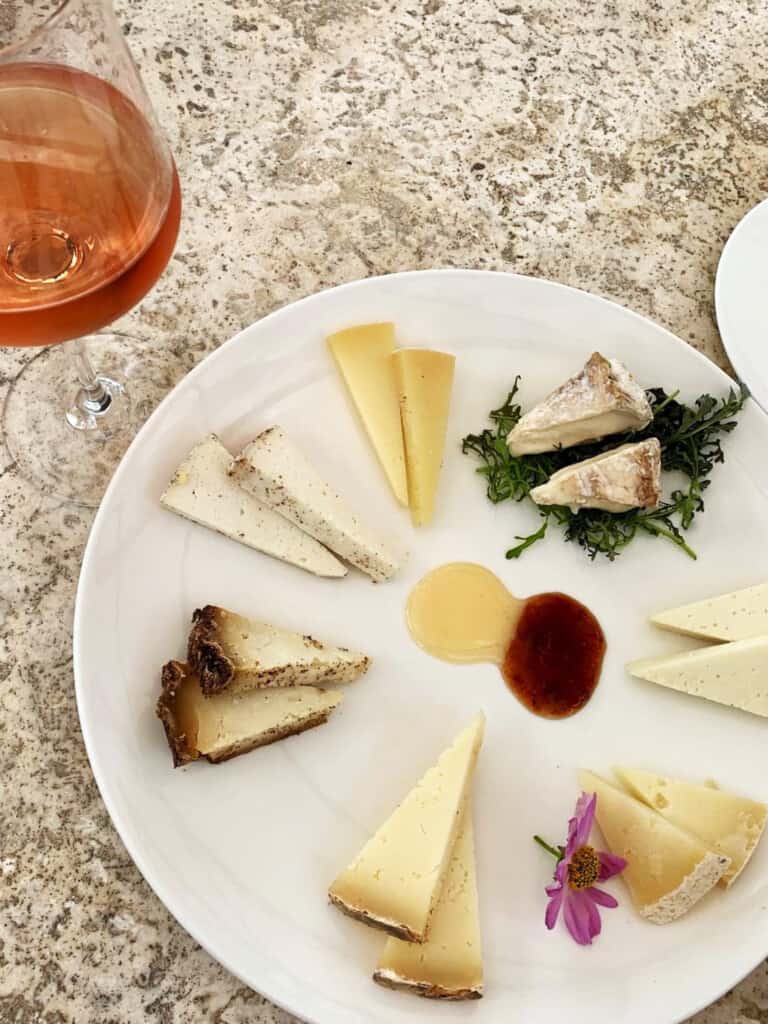 Made with the famous milk from Asciano and the sheep that graze in the Crete Senesi area, sharp but rich aromas. Traditionally it was produced with vegetable rennet. They taste fresh and seasoned.
Pecorino di Pienza
Pienza is considered the 'capital' of Pecorino: the excellence of its cheese is linked to the pastures in the area because the little town is in the middle of a clay territory where sheep pastures are characterized by a series of aromatic herbs that make the milk particularly tasty and fragrant. It is produced from December to July with its peak quality in springtime. You can eat it fresco (fresh) when it is relatively soft and creamy or it can be aged in a variety of ways until it is quite firm but crumbly, nutty, and sharp in flavor.
You can find Pecorino studded with black truffles or walnuts, or even wrapped in leaves which have almost turned to dust during the aging process. The wheel of cheese can also be rubbed with olive oil, tomato paste, or salt to give it a particular local style and taste. Again, you can find it aged in oak barrels or wrapped in cotton and aged in cavities carved into the tufa rock. Enjoy with a glass (or two) of local Sangiovese-based wine for the perfect pairing!
Pecorino Baccellone
Pecorino Baccellone is a delicious whole sheep's milk cheese lightly salted with spicy accents. It is called baccellone because it goes perfectly well with raw fava beans, known in Tuscan as baccelli, in the springtime. The most famous is produced in the Garfagnana area in the countryside close to Lucca.
Raveggiolo
This is a fresh sweet tasting cheese made with whole sheep's milk. It is produced by dripping the curds from the extracting process onto fern and chestnut leaves. It is available between January and June.
Ricotta
Ricotta is made by the "ri-cottura" re-cooking of sheep-milk whey at 80°C, a leftover from the production of cheese and the consequent spontaneous albumin, a milk protein. Sienese ricotta is famous for its granularity and clear taste. The best comes from the Monte Amiata area. Low in fat and slightly sweet, it is used for many pasta fillings and desserts.
Caprino
Made from goat's milk (goat in Italian is "capra"), caprino is soft and creamy. In Tuscany it is often rolled in herbs or ground pepper for extra flavor and it is mostly produced in the lush green of the Maremma and the Mugello.
This, of course, is only a sample of the cheese that Tuscany has to offer. There are more than 30 types of cheeses recognized as traditional Tuscan products and hundreds of other local delicacies that are worth a taste! Visiting the dairy farms on a day tour focused on cheese making or in combination with a wine tour can be really interesting to get closer to know this traditional production of Montalcino and the Val d'Orcia.