Tuscan Truffle is a treasure hidden in the dark belly of the earth which, brought to the table, gives dazzling light to the simplest dishes
What is Truffle?
First of all, it is not a tuber for which it is often mistaken. It is actually a hypogeum mushroom that grows underground and belongs to the Ascomycetes family. It comes from the symbiosis of a plant, usually an oak or holm oak tree which flourishes around Montalcino, and its roots, from which the truffle gets its nourishment.
It usually takes a few months from the birth of the truffle to its real maturation, but it varies depending on different climatic factors. These special conditions are often not man-made, and that is why the truffle is not cultivable but is found almost exclusively in nature.
Tuscan Truffles
In Italy, certainly the most famous area for truffles is the Piedmont region and more precisely Alba in the Langhe area.
Here in Tuscany, there are also two very important areas. The first is in San Miniato between Florence and Pisa, and the sHecond is precisely in Montalcino in the hamlet of San Giovanni d'Asso in the Crete Senesi area.
There are no scientific evidences to demonstrate which one is better: probably, the only reason why the Truffle from North Italy is more famous is because they have been really good marketers since the past.
In Italy, 13 different species can be extracted. The most famous in Tuscany are
the Bianchetto (or Marzolino because it is found in the period of March, Marzo in Italian)
the precious Black Truffle
the black Scorzone (or Summer Truffle because it grows during the hot season)
and the most precious and most expensive, the White Truffle which sells at very high prices up to 5.000 € per kilo
Truffle Festivals
Here,Truffle Fairs are held three times a year. The first is on the last weekend of March for the Tartufo Marzuolo because it is found mostly in March, the second for the Scorzone Truffle on the Sunday closest to June 24 and finally, the most important one, the White Truffle Festival on the second and third weekend of November when it is possible to taste and buy truffle directly from the hunters.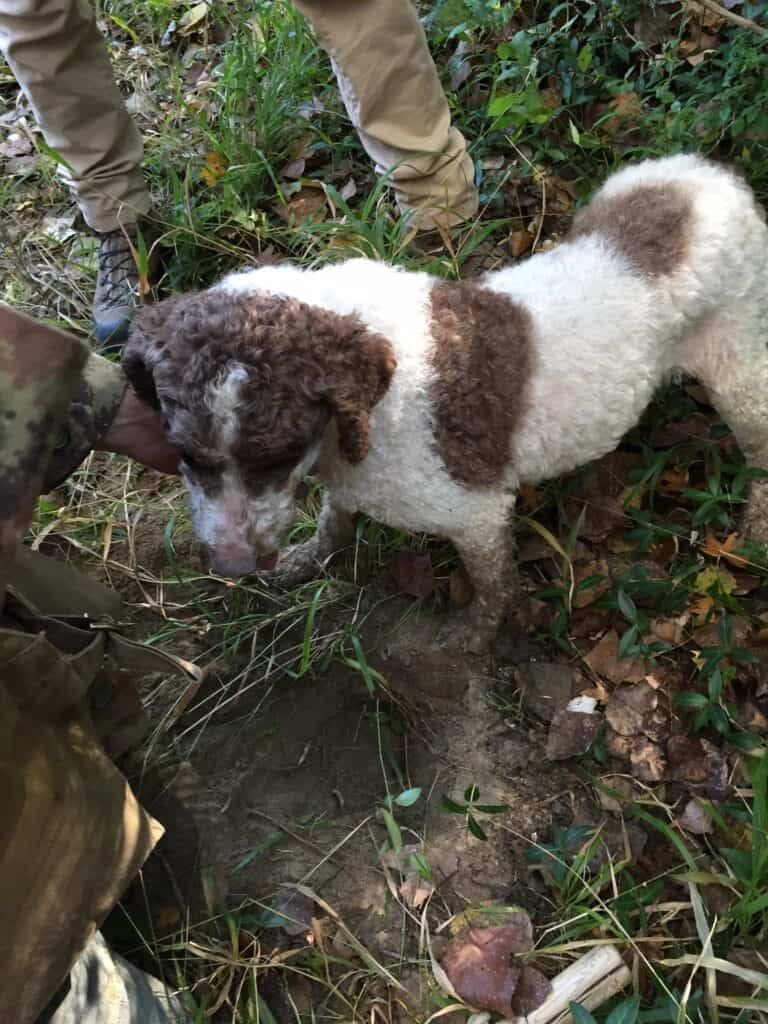 Dogs, Truffle Hunter's Best Friend
The strong odor released by the spores of the truffle are picked up by dogs trained by truffle hunters. The best breed is called Lagotto Romagnolo (an Italian breed of ancient origins which developed in the marshy areas south of the Po River), but crossbreeds are also excellent truffle hunters.
In the past, pigs were also used for truffle hunting in Italy, but they are too greedy. In fact, the main problem is that they then want to eat the truffle, so this technique disappeared in Italy after the end of the Second World War. However, pigs are still used in some regions in France.