Simplicity is the main feature of Tuscan cuisine.
Simplicity of the ingredients and simplicity in the preparations. Supported by an exceptional high quality of the raw materials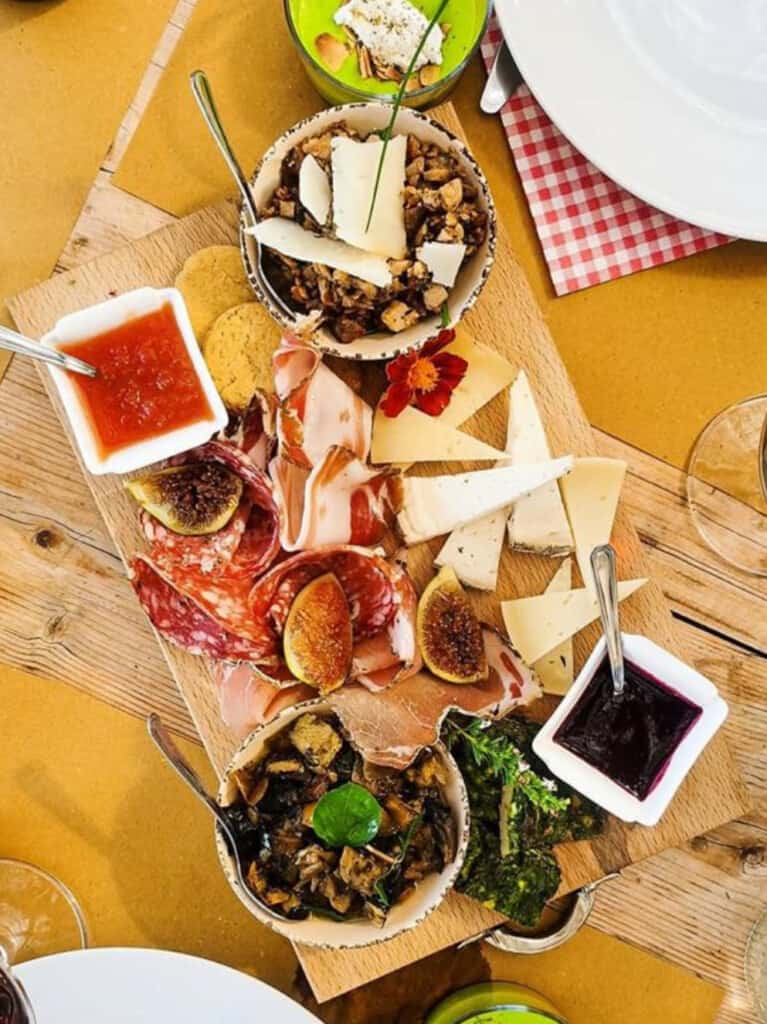 A dual origin
The cuisine of this region boasts ancient origins which date back to the Etruscan period when Tuscany's gastronomic tradition originates. But was during Renaissance that evolved significantly because Moments of conviviality became part of the culture of the noble courts where the best chefs worked, especially in Florence.
The great chefs of the time used precious refined ingredients and many spices to give a touch of exoticism and uniqueness to the dishes. Many books were written in this period, real manuals on the art of hospitality. This was what happened in the noble courts.
The poor people of the countryside were instead carrying on a completely different tradition, which is  still in use today. Not having the opportunity to buy fine ingredients, everything that filled their plates was based on the theory of "not throwing anything away." Stale bread, for example, is the basis of many Tuscan dishes such as Panzanella and Ribollita.
For this dual origin, from noble courts and from poor plebs, alongside some very elaborate dishes rich in noble spices such as saffron, in Tuscany we find a simple popular cuisine made of high quality ingredients. For example is popular to use the very valuable Extra Virgin Olive Oil not only to dress dishes but also to cook and fry!
Appetizers
The traditional Tuscan appetizer usually includes cheeses, cold cuts, and canapés. Among the cheeses, Pecorino is a must, sometimes served with onion or chili pepper jams (this is not very traditional, actually!).
The most common cold cuts are Tuscan cured DOP ham, Tuscan salami, Finocchiona (pork salami flavored with fennel seeds and red wine), Cinta Senese pork cold cuts, and the excellent Colonnata lard.
Among the canapés, the most typical is certainly the Tuscan Crostino, toasted bread topped with different spreads made from chicken livers, capers, or anchovies and butter. There is also the traditional Bruschetta (or "fett'unta", literally "a greased slice"), which is simply slices of bread rubbed with a clove of garlic and drizzled with extra virgin olive oil.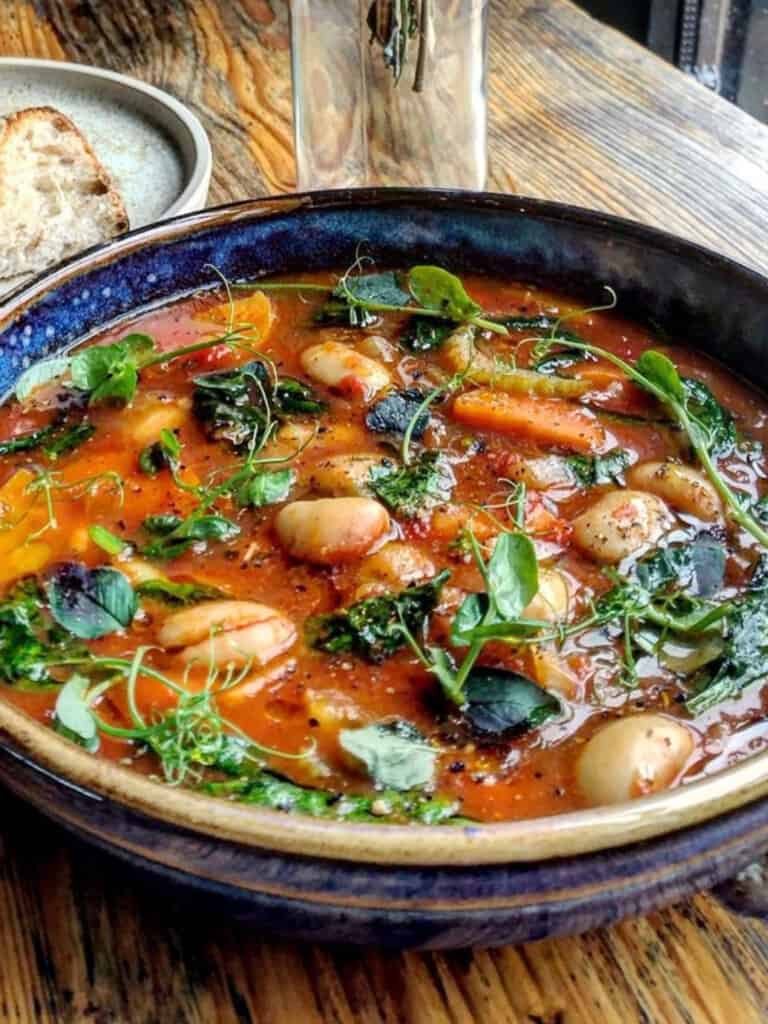 Panzanella is another typical dish of the region, perfect for the summer and easy to prepare: stale bread that is soaked in water and then squeezed out and crumbled in a bowl tossed with tomatoes, onion, cucumber, and  basil, and finally dressed with evoo and vinegar.
Soups and broths
Soups and broths are a staple on Tuscan tables, especially in the winter season and can be enjoyed as an appetizer, first, or second course.
The most popular is probably Ribollita, one of the main dishes of Tuscan cuisine. This mainly Tuscan Kale, Cavolo Nero, and buttery bean soup is served with croutons of stale bread. It used to be made on Fridays in order to use up all the leftover food of the week.
The special thing about this dish is the fact that it is boiled twice. After preparing the soup, it is left to rest in the fridge overnight and the next day it is boiled again. Hence, its name, "ribollita", re-boiled.
Acquacotta is a dish from the Maremma area, originally enjoyed by herdsmen and charcoal burners. At that time, it was simply made from water and herbs. Then the recipe gradually changed and became richer. There are several versions of this soup depending on the area.
In Arezzo, there is the addition of Porcini mushrooms, but in order to be authentic Acquacotta, it must absolutely include the basic ingredients such as herbs and eggs. In the province of Grosseto,  there are several food festivals featuring this dish in the month of August.
Another speciality is Pappa al Pomodoro which is made with stale bread, as usual, ripe tomatoes, evoo, garlic and salt. It is good in the wintertime but even better during the summer when we can pick fresh tomatoes right from our gardens! 
First Courses
Tuscany like all Italy is rich in tasty traditional first courses. Handmade pasta is a must: pici, tagliatelle, pappardelle, maltagliati, malfatti… These are just some pasta shape names which vary depending on the area where they are made!
The most famous are probably Pici (don't ask me why, but here and only here in Montalcino, it is called piNci!), a thick long hand-rolled pasta typical of the Siena province. It is usually served with a meat sauce, a tomato sauce, Aglione sauce (a special variety of garlic which is much bigger and sweeter than the smaller variety) or simply topped with fried bread crumbs (yes, the same old stale bread sauteed in olive oil and garlic).
Even the Ravioli Maremmani, stuffed with ricotta and spinach, or the so-called Tordelli, ravioli stuffed with meat, are common first courses, especially in the Maremma area.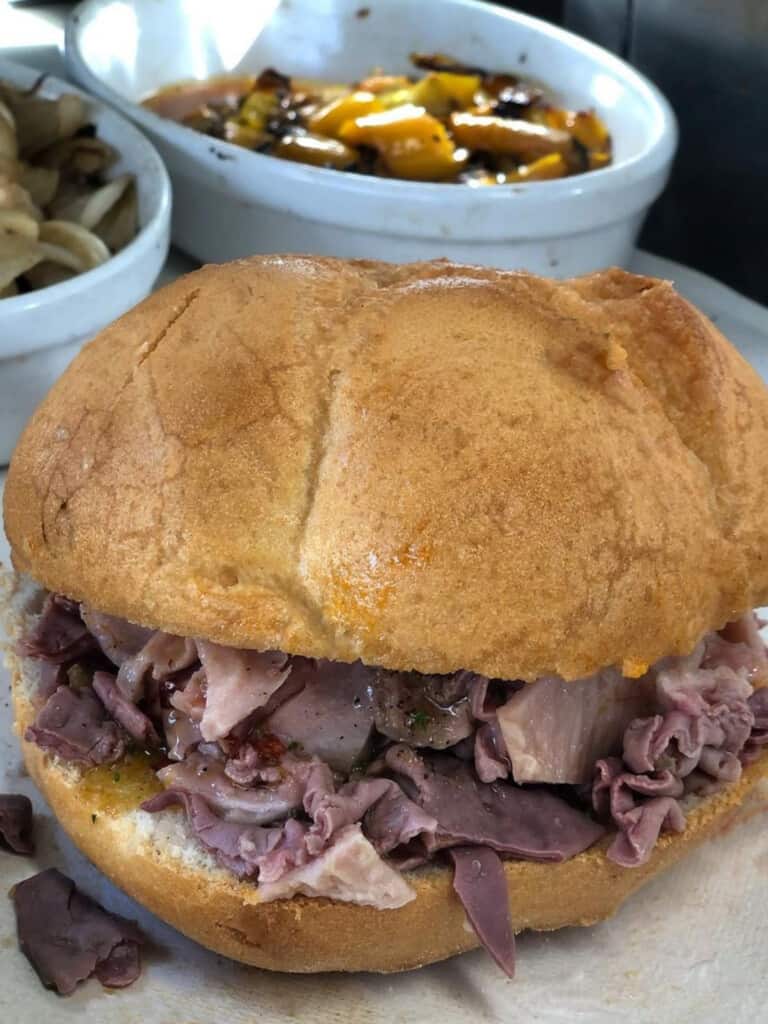 Only along the Tuscan Coast can you eat excellent fish: Cacciucco is a very ancient dish in the Livorno tradition featuring many flavors from the sea. This fish soup includes basic ingredients such as shellfish, mullet, scorpion fish, and other "inferior" fish, since it originated as a poor dish prepared with unsold fish leftover after the market. 
Meat
The real queen in Tuscan cuisine is the meat! In first place, there is obviously the steak par excellence, the Bistecca Fiorentina, Chianina beef at its best (raised in the Val di Chiana between Siena and Arezzo) cooked on the grill. The selected cut is the short loin or sirloin.
When you decide to cook the meat, it must first be at room temperature and is cooked on the grill without any seasoning, just a few minutes per side (no more than five).
When it is done, it can be seasoned with salt, pepper, and a drizzle of oil and served with side dishes. Just delicious! It is even better when paired with a bottle of Brunello di Montalcino or Chianti Classico!
On the grill, we can also prepare the Rostinciana: pork ribs, sausages, and porkchops. Mouthwatering! Keeping with the theme of pork meat, one of the most appetizing specialties around here are Fegatelli, small pieces of liver wrapped in caul fat (a net-like membrane that covers the abdominal cavity of the pig) flavored with bay leaf and wild fennel and cooked on a spit or, even tastier, roasted in lard. During cooking, the fat from the "net" melts giving even more flavor to this traditional dish, if it wasn't heavenly enough already!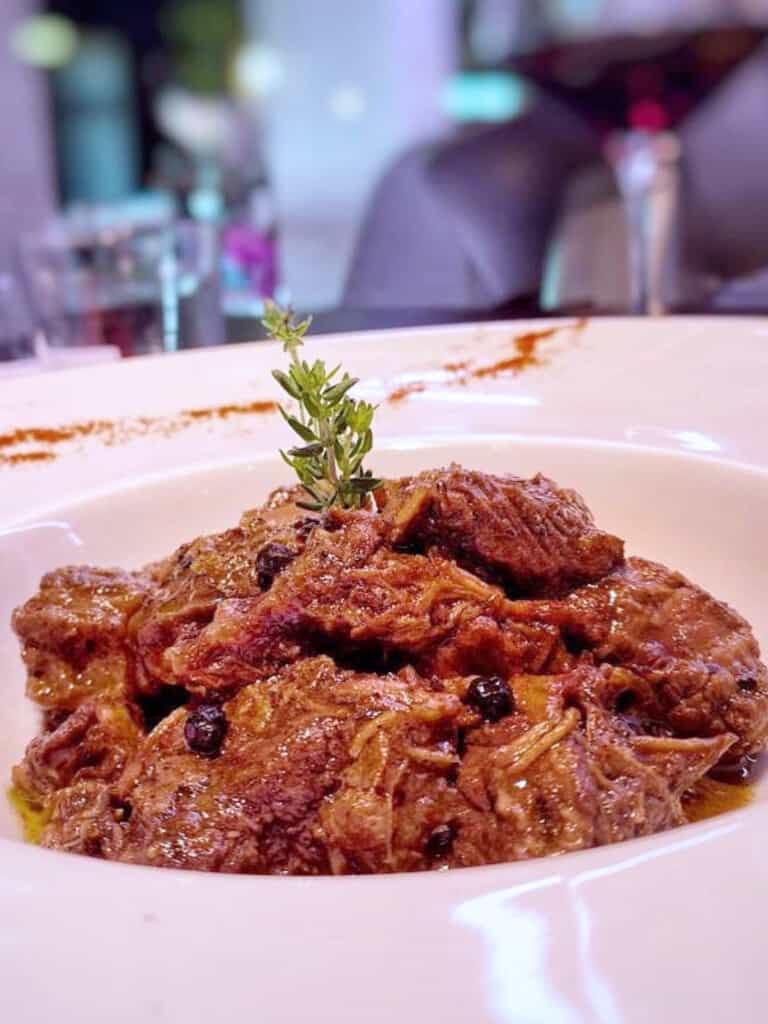 A very old recipe is Peposo, a stew cooked in the oven with a lot of black peppercorns, a little tomato sauce, and red wine. It seems that it was invented by the Fornacini (workers who fired bricks) from Impruneta near Florence who used to put stewing beef and other basic ingredients in an earthenware pot and place it at the mouth of the oven so that it could cook very slowly. After a few hours, the stew was ready.
In Florence, one of the most popular and traditional dishes is Lampredotto, the last of the four cavities of the cow stomach. First, it is boiled in plenty of water with tomato, onion, parsley, and celery for a long time. Then, it is usually chopped into small pieces for a Tuscan panino. The inside of the bun is usually dipped in the Lampredotto cooking broth before filling. It is a typical poor dish and the most common Florentine street food which is still very popular in the Tuscan capital thanks to the numerous kiosks of the Lampredottai (lampredotto sellers) all over the city.
Continuing on this journey through the entrails, Trippa is also very popular in Tuscany, especially beef tripe which is cleaned, boiled, cut into strips, and usually cooked in tomato sauce, but the special Montalcino recipe has it prepared with saffron! 
Game is the main ingredient of many typical recipes that make the most of the abundant local fauna resources such as wild boar, roe deer, fallow deer, hare, and pheasant. Throughout Tuscany, many restaurants feature game-based dishes on their menu. Here in our area, wild boar and roe deer are the most common, also because hunting was the only way that meat could be eaten on a regular basis in the past. Fortunately, this is no longer the case. Game is also used in the preparation of many pasta sauces: wild boar and hare ragù are both excellent!
Side dishes
A very common side dish is beans, introduced to Tuscany in the sixteenth century by Clement VII de Medici. After being boiled and seasoned, they can be eaten all'uccelletto, in a sage and tomato sauce. The traditional cooking vessel is a glass flask placed on the grill. The mouth of the bottle is covered with straw so that the steam can escape during the extended cooking time as the water evaporates and the beans absorb the oil.
Tuscan kale or black cabbage is very typical in this region along with stewed or fried cardoons and fried zucchini flowers. We also thank mother nature for giving us a huge selection of mushrooms and, above all, the king Porcino. The thick forests in our countryside or on Mount Amiata reward mushroom hunters with their precious bounty.
Desserts
Among the desserts in Tuscan cuisine, two standouts from Siena are Panforte, rich in dried fruit and spices, and Ricciarelli a marzipan-based biscuit. Cavallucci are typical sweets for the holidays with their nuts and spices while the Cantucci from Prato, dry biscuits made with almonds, are usually dipped in the Tuscan dessert wine Vin Santo at the end of a meal.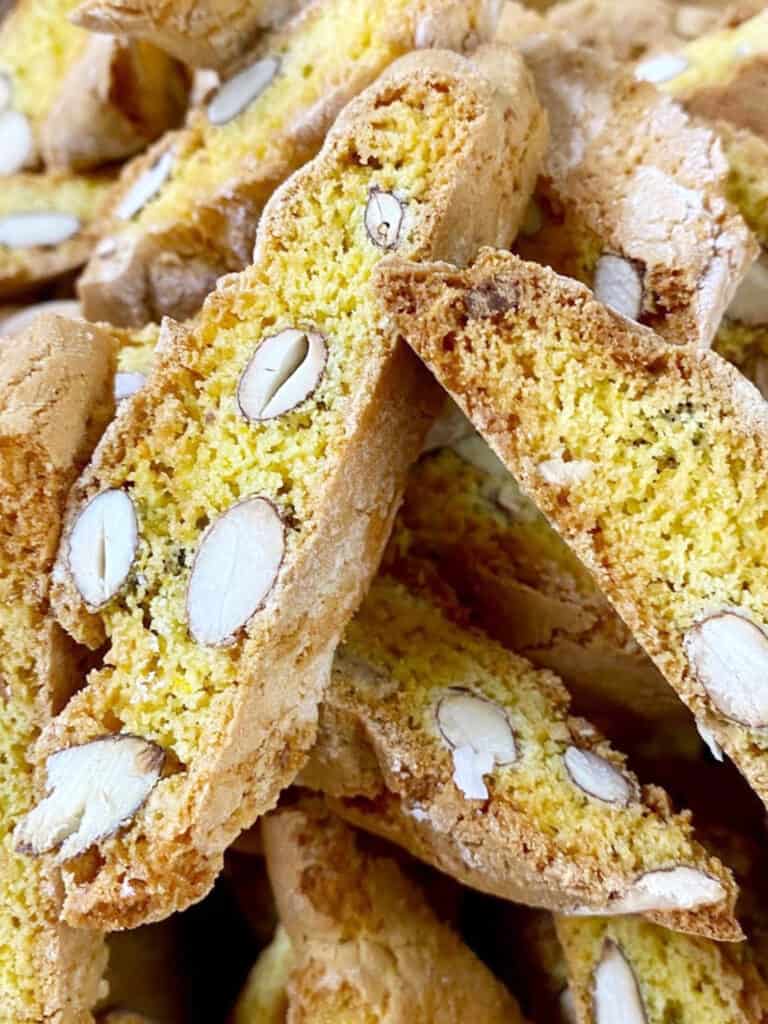 In autumn, you must try the Castagnaccio, prepared with chestnut flour ("castagna" is chestnut in Italian), walnuts, raisins, pine nuts, and rosemary.
From appetizers to desserts, Tuscany is full of healthy and tasty foods to satisfy any palate, from the simplest to the most refined. Each dish can make a perfect match with local wines from sparkling to whites, from the big reds known all over the world to dessert wines.
Are you hungry now? Join us on some of our Montalcino Food Tour. There is something to delight every palate!