If you think about a Tuscan postcard, you are thinking about Val d'Orcia! Rolling hills and cypress trees dotting the landscape here and there, old farmhouses on top of every little hill, fields of gold in summertime or bright green meadows in spring.
The Landscape as a Work of Art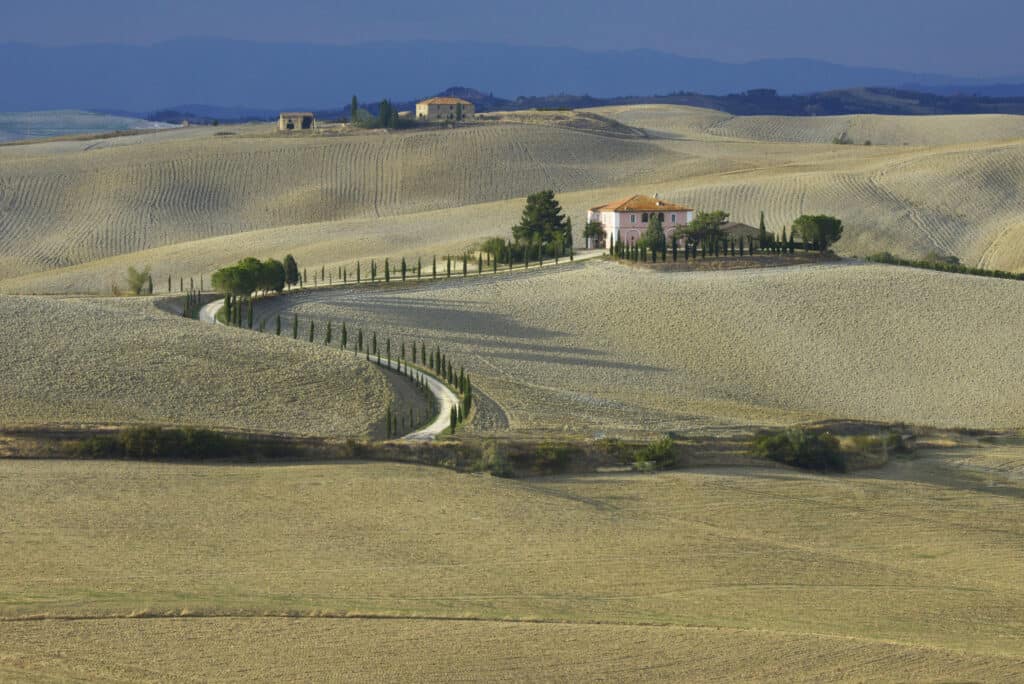 The Val d'Orcia is an example of how the natural environment was manipulated and redesigned by man during the Renaissance to express the ideals of good governance and to create what is beautiful with the landscape. For this reason the UNESCO added it to the World Heritage list (July 2004).
The Val d'Orcia is an unspoiled dwelling place, a special place immersed in the peace and tranquillity of its towns and countryside. It is a land whose amazing soul often cannot be discovered without leaving the car and fancy clothes behind to wear more comfortable clothing and to walk along mule roads, paths, and streams then to stop and rest at a country home or an old-time tavern. The Val d'Orcia is far from traffic and pollution, off the beaten path, and requires deeper contact with nature and the people who live it so it can reveal itself in all its magnificence.
The whole area is rich in hot springs which gush from the core of the earth bringing the 40°C water rich in sulphur and calcium to the surface, which has been used for health and body treatments since ancient times . The most famous spots for hot springs are Bagno Vignoni, Bagni San Filippo, and San Casciano dei Bagni. Hot springs were also recently discovered under Montalcino, and some places have installed hot-spring swimming pools.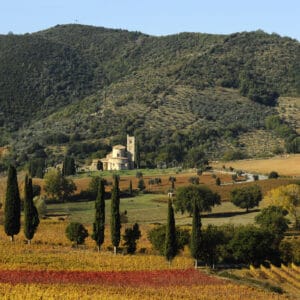 Near Castelnuovo dell'Abate where the Starcia Creek runs through the valley, stands the magnificent Sant'Antimo Abbey, which has become an icon of Montalcino in the world with its apses, bell tower, and cypress tree. History and Legend Legend has it that the abbey was founded by Charlemagne when his court and army were hit by the plague while on Monte Amiata. The emperor asked for the grace of healing and, when it was granted, he built Sant'Antimo in thanksgiving for this miracle. The construction of the original core of the abbey actually goes back to the worship of the relics of Sant'Antimo of Arezzo who died in 352 A.D. Some of the faithful built a small oratory on the relics of martyrs to be able to pray over them. The original section was built on the ruins of a Roman villa shown in the bas-relief with the cornucopia on the…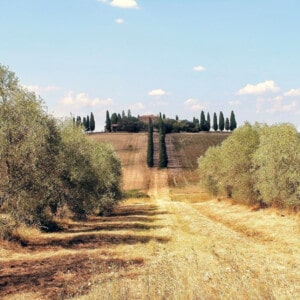 Not far from the majestic and very famous circles of cypress trees, let the gentle winding Tuscan roads lead you up to San Quirico: a charmingly bright village elegantly sitting upon the top of the hill which separates the Val d'Orcia from the Val d'Asso, just 15 minutes from Montalcino or Pienza by car. Less busy compared to those villages, San Quirico preserves the charm of local Tuscan life and is always worth a stop during your Tuscan wandering. This is an often overlooked precious gem of a thriving community. Strategically located on the Via Francigena, San Quirico has been touched by notable travellers and peoples of many eras who have left their mark. Traces of Etruscan life remain from long ago while the medieval city plan still remains with various visible Romanesque and Gothic accents as you may note at the Collegiata Church.Next Palazzo Chigi, which was officially re-inaugurated…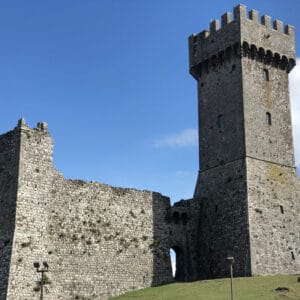 The Fortress of Radicofani towers over the Val D'Orcia closing it off to the south and is visible from far away. It is a craggy and threatening rock where the work of man joined with the work of nature in its geological forms and, together, they created a perfect fort. The View from Radicofani On clear days, one of the most spectacular views in the world can be seen from the walls of Radicofani. To the north the Val d'Orcia, the Crete Senesi, and the Chianti stretch off into the distance, slowly gazing west there is Siena with its terracotta rooftops and the Mangia Tower, further west to the green forests of the Montagnola, Murlo, and the Metallifere Hills towards Grosseto, then there are the hills of Montalcino with its rows of vines that end at the bottom of Monte Amiata, to the south there are Bolsena and Trasimeno lakes,…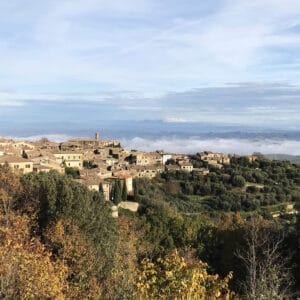 Montalcino is an enchanted land, a terrace that looks over Tuscany from which you can admire the Val d'Orcia in continuous iridescent views of green, yellow, ochre, blue, and brown. The landscape of Montalcino always looks like a sea rippled by the wind of fancy where each season provides a different wonder and never ceases to amaze you; it always feels just like the first time. From the meeting of two polar opposites, old Montalcino linked to traditions and the foreigner with his bizarre innovations, exchanges, and fusion, comes the idea of the magical and extraordinary land of Tuscany which has charmed people from all over the world, which you breathe in the air, see in things, and live everyday in Montalcino. Its name derived from the Latin "mons ilcinus", mount of holm oak, a strong and noble variety of oak tree commonly found in the woods of the territory.…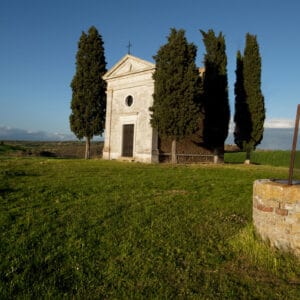 The "capital" of the Val D'Orcia (which includes 4 more towns and their territories - Montalcino, San Quirico d'Orcia, Castiglione d'Orcia and Radicofani) is Pienza, founded as Corsignano. Inspired by a thought of love and a dream of beauty Around the year 1300, parts of the village became property of the Piccolomini family, and Franciscans settled down here in the 13th century. Enea Silvio Piccolomini, the Renaissance humanist who later became Pope Pius II, was born in this tiny hamlet in 1405. Once he became Pope, he had the entire village rebuilt as an ideal Renaissance town and renamed it after himself as Pienza, which means "city of Pius". Intended as a retreat from Rome, it is the first application of humanist urban planning concepts, subsequently adopted in other Italian towns and cities. Pienza is also famous worldwide for the quality of its pecorino cheese, produced with milk from the…