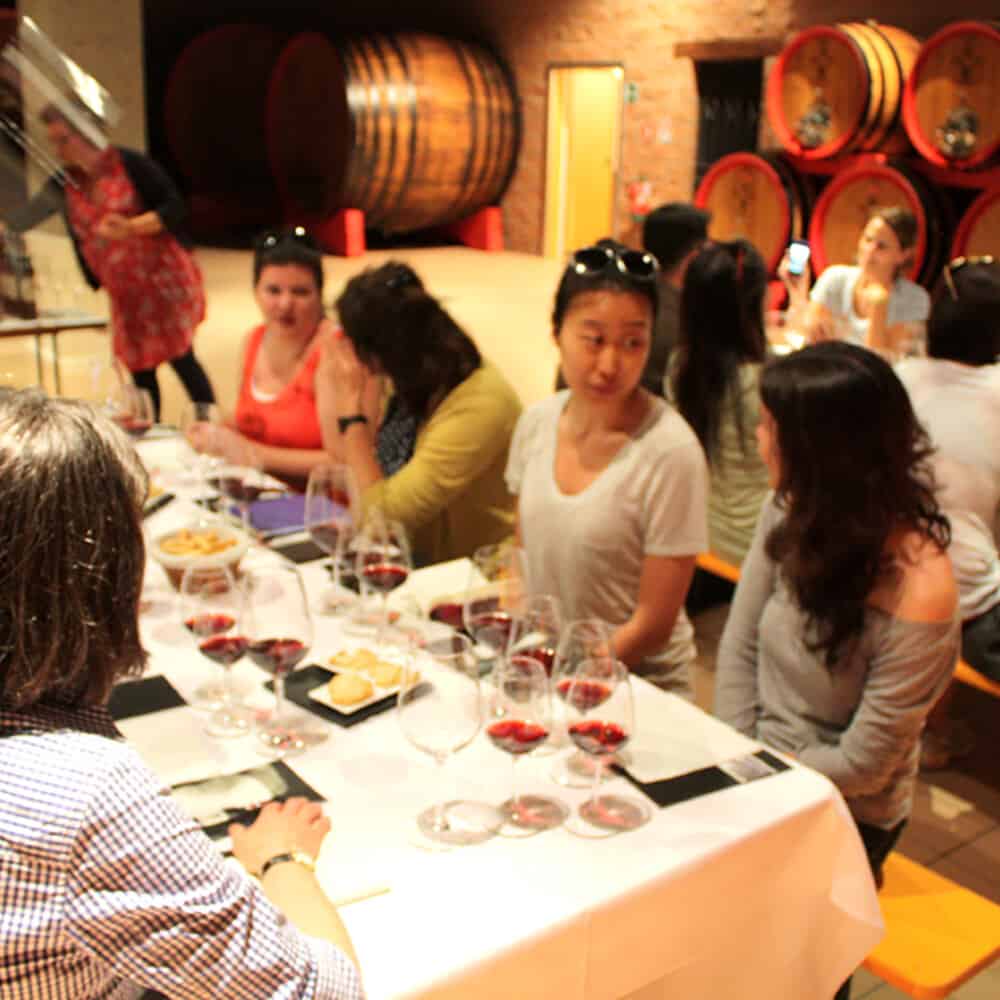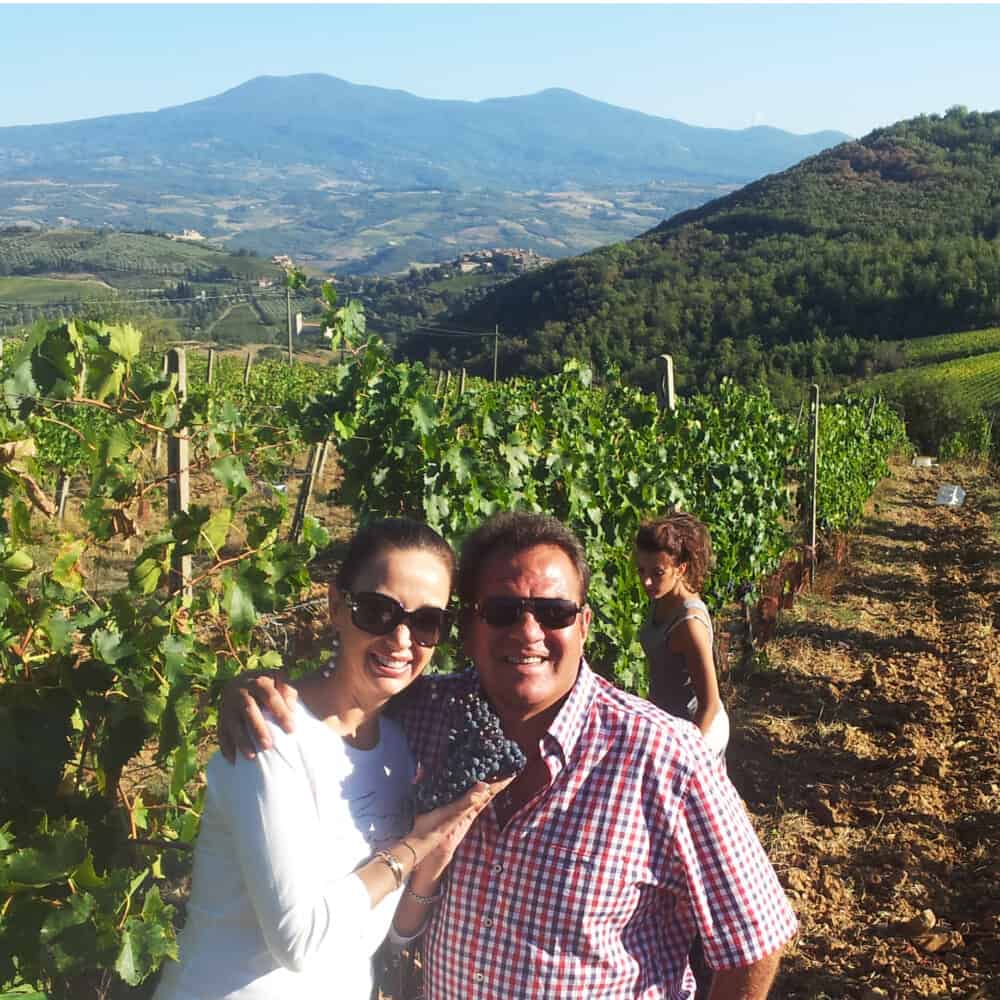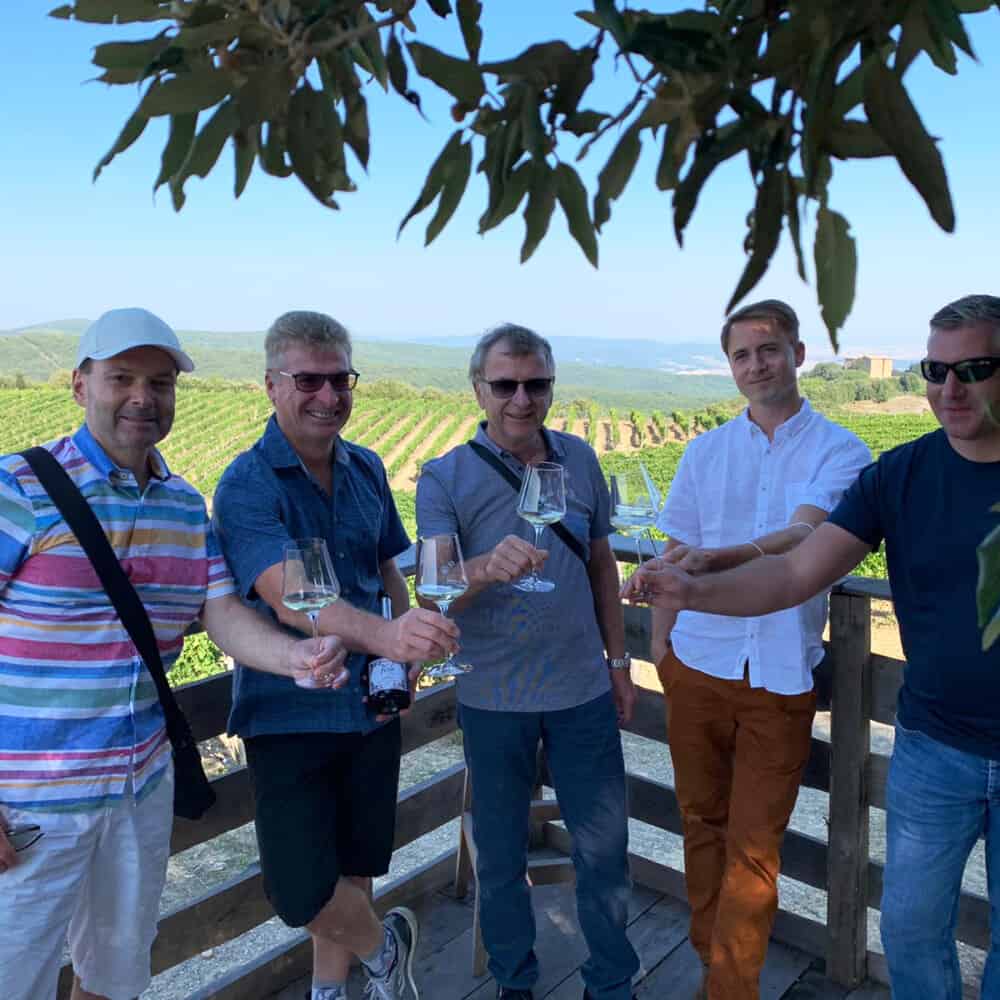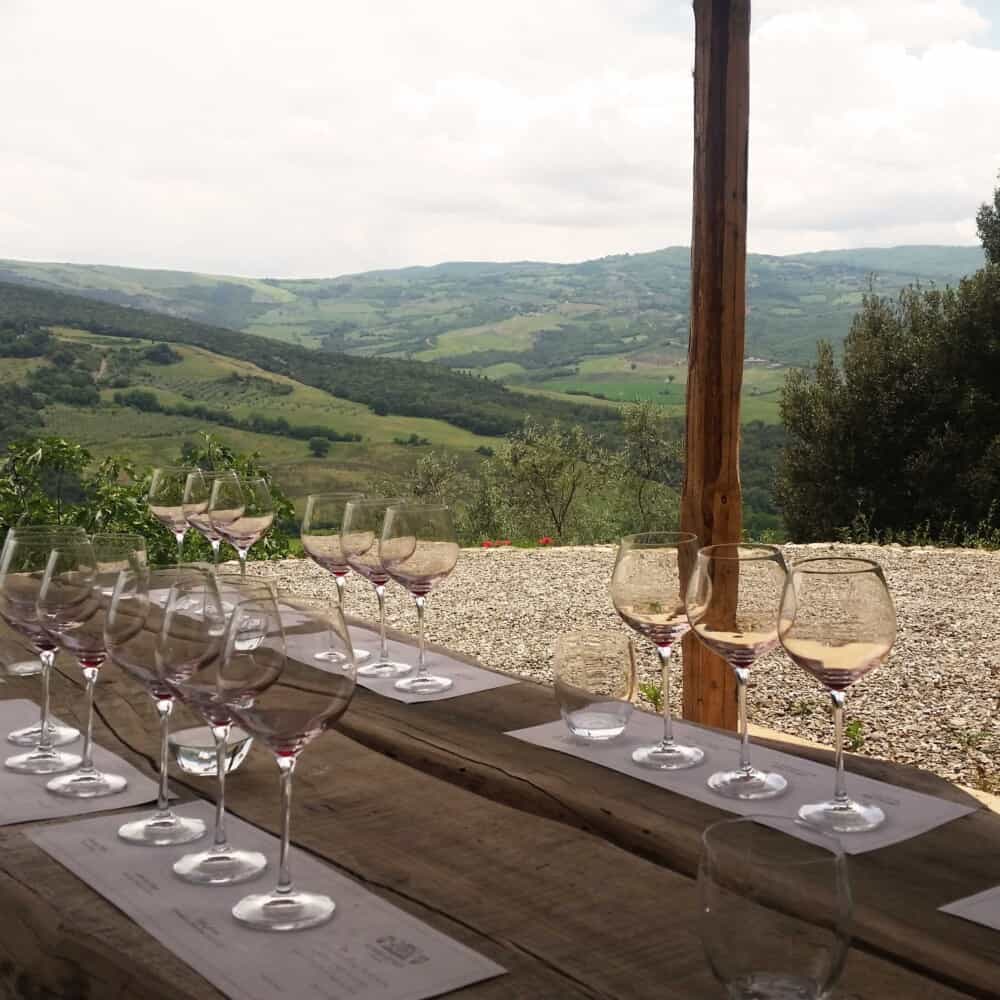 The Brunello Wine Tour: a wine-intensive day led by locals along the rolling hills of Tuscany. Come with us!
On our private Brunello Wine Tours we visit two or more wineries, Sant'Antimo Abbey and the old town of Montalcino. We also stop in the middle of the vineyards to understand the work of the vignerons.
We go off the beaten paths, literally! We'll take the narrowest dirt roads, "Strade Bianche", through the olive groves, vineyards, and forests of Montalcino to reach the most interesting people of this beautiful wine region in Tuscany.
We start in the morning around 10am. Our English-speaking driver guide pick you up directly at your accommodation in a luxury and very comfortable Mercedes Benz vehicle. On board, free water and wi-fi internet connection will always be available.
During the transfer to the first vineyard, your guide introduces you to the territory, its history, and its winemaking tradition.
At the winery, you have a private tour where you will meet the owner or one of the staff, a wine expert who guides you through the estate: vineyards, facilities, and aging cellar. At the end of the tour, we have our own reserved area for the tasting, usually with a view.
Here you taste 3-7 wines (it depends also on the size of the estate) guided by the owner or by an expert, such as a sommelier, who tells you the story of these wines, their characteristics, and best pairings. If necessary, your guide will also provide a brief introduction to the correct way to taste wines as well as an explanation of how the Italian system of wine denominations works.
During the morning we also stop in the old town of Montalcino with free time to stroll along the cobbled narrow lanes of this typical Tuscan village. Here you could take some nice pictures, sip a glass of wine at one of the old cafés, or just do some shopping.
Time permitting, we could also visit Sant'Antimo, an incredible 1200-year-old abbey in the middle of the countryside. If you are instead more interested in wine, we can plan to visit an extra winery in the late morning.
Depending on our itinerary, we stop either in Montalcino or at a small farm with a view of the valley where you can taste local farm to table delicacies for lunch. Usually we have an appetizer, a pasta course, and dessert.
In the afternoon, we tour another great Brunello producer where we have the possibility to visit the olive grove and taste his extra virgin olive oil in addition to his wines.
During the day, you have the possibility to buy wine directly at the estates at the most reasonable price. We also provide a service to ship the bottles directly to your home. We will take care of your wine by storing it in a refrigerated depository until you get back at home to receive it.
At the end of the day, we will transfer you back to your accommodation around 5pm.
What's included
private transportation in a luxury, fully licensed Mercedes Benz vehicle with a/c, free water, and wi-fi
local, fluent English-speaking, food & wine expert driver guide who will accompany you during the day explaining the secrets of the Montalcino terroir
2-3 private visits with wine tastings (sometimes also grappa and extra virgin olive oil) at Brunello wineries
visit Sant'Antimo Abbey and/or the old town of Montalcino
3-course lunch
FAQ
Are children admitted on this tour?
Yes, we love children in Italy, and they are always welcome. Let us know if you need a booster seat or if you have one with you. Please note that children are not allowed to taste wines at the wineries until they are 18 years old.
Can you pick us up in Pienza, Montepulciano, Siena, Firenze, San Gimignano, Chianti, etc.?
Yes, of course. Before booking, we will provide you with a specific quote for this extra service.
Which wineries are we going to visit?
In Montalcino, there are more than 200 wineries, and we work with most of them. Based on availability, we select the best spots for your day. If you have preferences, feel free to tell us, and we will do our best to make you happy.
Pickup Points: Montalcino, ask us for a different location.
Departures: Everyday
Season: All year long
Pay safe with ...

Would you like to modify this tour or design your own experience in Tuscany?
Let us know your needs and wishes and we will tailor the perfect program for your trip to Italy.