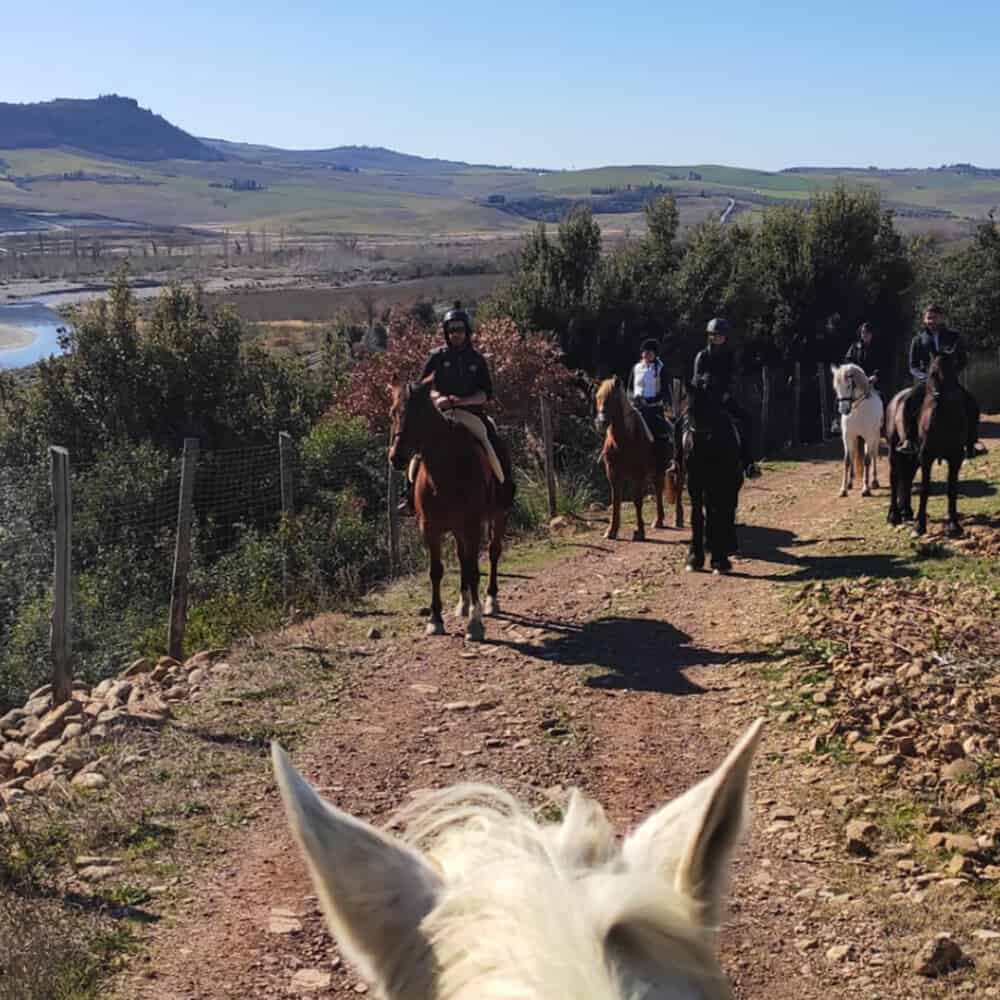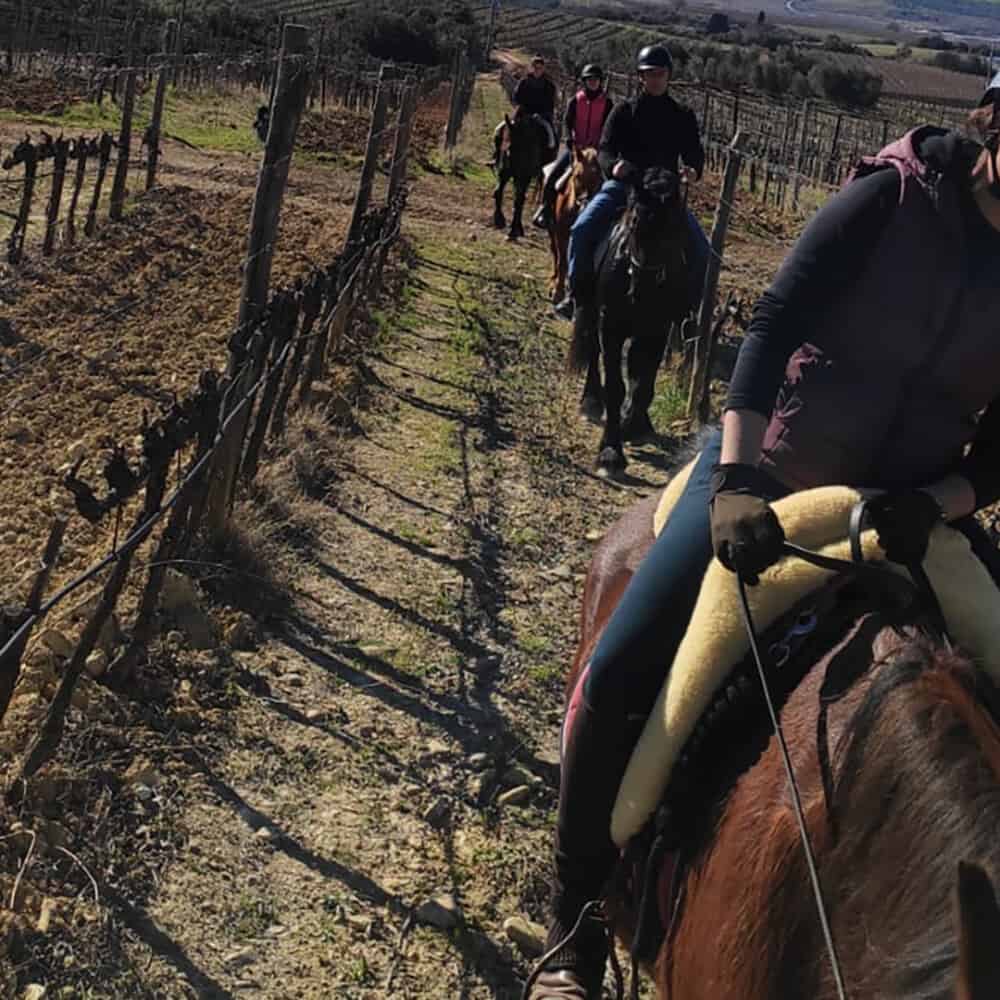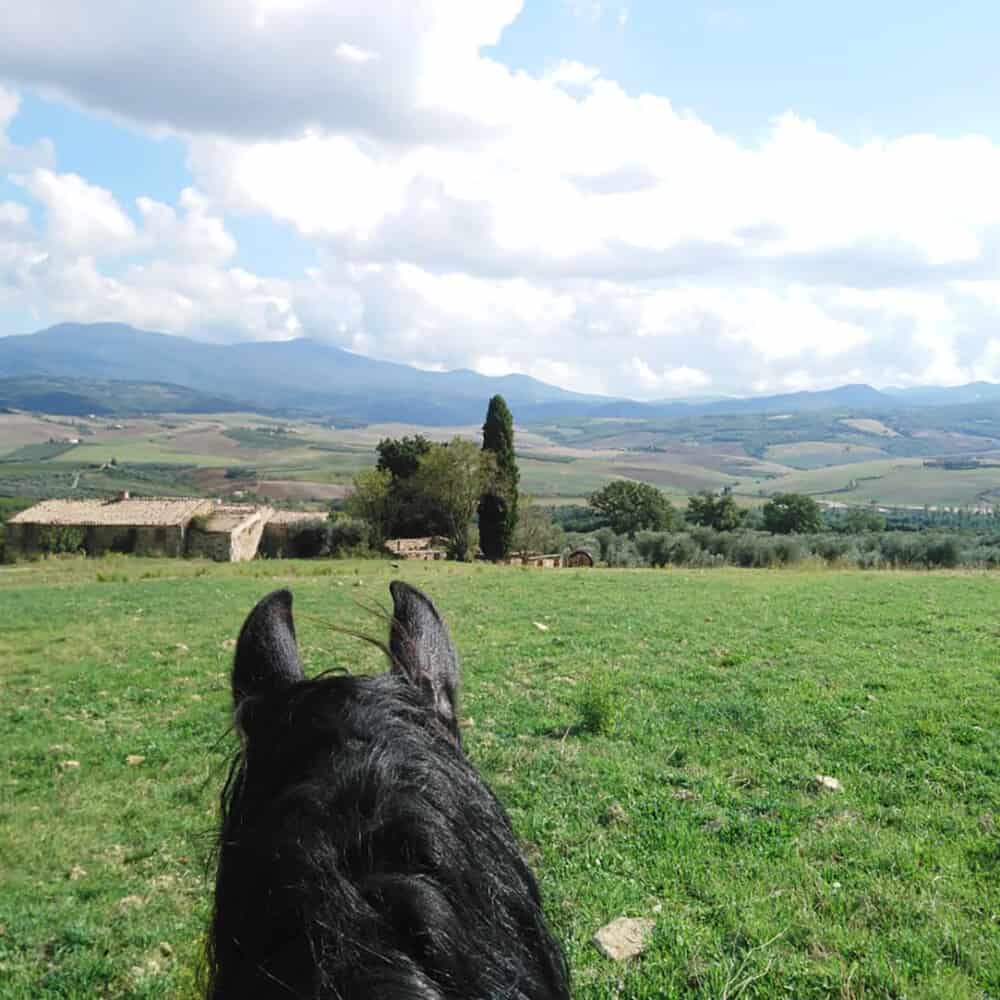 One of the best ways to understand the Brunello terroir is on horseback. Join our trekking tours!
Experience the Tuscan countryside on horseback: this adventure starts from the Montalcino Equestrian Center, follows dirt roads along the vineyards of Brunello and ends at a historic winery where you will visit the cellar and taste the great wines of Rosso di Montalcino, Brunello, and Super Tuscans.
We ask you to be at the Equestrian Center 15 minutes before the start of your excursion. You can drop off your belongings where they will be safely stored at the clubhouse and enjoy your horseback experience.
Depending on your level, the instructor will assign you a specific horse. The Horseback Trekking Tour lasts about 3 hours taking white roads, forests, Brunello vineyards, and olive groves. We pass through different properties and wineries, see castles and ford small creeks.
Passing through the fields where the grapes for Brunello grow, it is possible to see up close how the rows are trimmed and how the vines and soil are managed in Montalcino. We stop here and there to take pictures and to rest or talk to the vignerons that we meet along the way.
At the end of the tour, we stop at a historic Brunello di Montalcino winery to meet an expert who will guide you through the estate including the cellar, barrel and fermentation rooms, while explaining the winemaking process of Montalcino.
Finally, we end up in the tasting room where we can enjoy these great wines.
The total tour lasts for 4-5 hours.
What's included
bilingual (Italian and English) equestrian tour guide
purebred Maremma horse
light lunch at the farm or gourmet picnic in the fields (depending on the weather)
guided winery tour with tastings of Super Tuscans, Rosso and Brunello di Montalcino
24/7 on-call assistance
What's not included
Transfer from/to your accommodation (available as an extra. Contact us)
gratuities
We believe that the deep soul of Montalcino in the Val d'Orcia can be picked only through the intimacy and respect of the small group. This is why all our horseback riding trips are designed, created and optimized for small groups of 6-8 people.
This tour is for intermediate riders. If not sure of your experience, please consider the easiest tours: the Horseback riding& Lessons
Horseback riding is a weather dependent activity so if the tour has to be deleted and cannot be rearranged at your convenience then you will receive a full refund.
We strongly recommend sporty clothes with proper walking boots and long pants (shorts not allowed!).
The Cap is provided by us.
FAQ
I have never ridden a horse in my life. Is this experience good for me?
No it isn't. We suggest to choose the basic version of the horseback riding experiences. We can add the winery tour and tasting to it: just let us know in the notes when you book.
Are kids admitted?
Yes, let us know in the notes their age and level. Kids are not admitted to taste wines until they are 18 years old but they can enjoy the visit to the cellar.
Can you pick us up in Pienza, Montepulciano, Siena, Firenze, San Gimignano, Chianti, etc…?
Yes of course. We will provide you, before the final booking, a specific quote for this extra service.
Pickup Points: Siena, Montepulciano, ask us for a different location, Pienza.
Departures: Everyday
Season: From March to November
Pay safe with ...

Would you like to modify this tour or design your own experience in Tuscany?
Let us know your needs and wishes and we will tailor the perfect program for your trip to Italy.