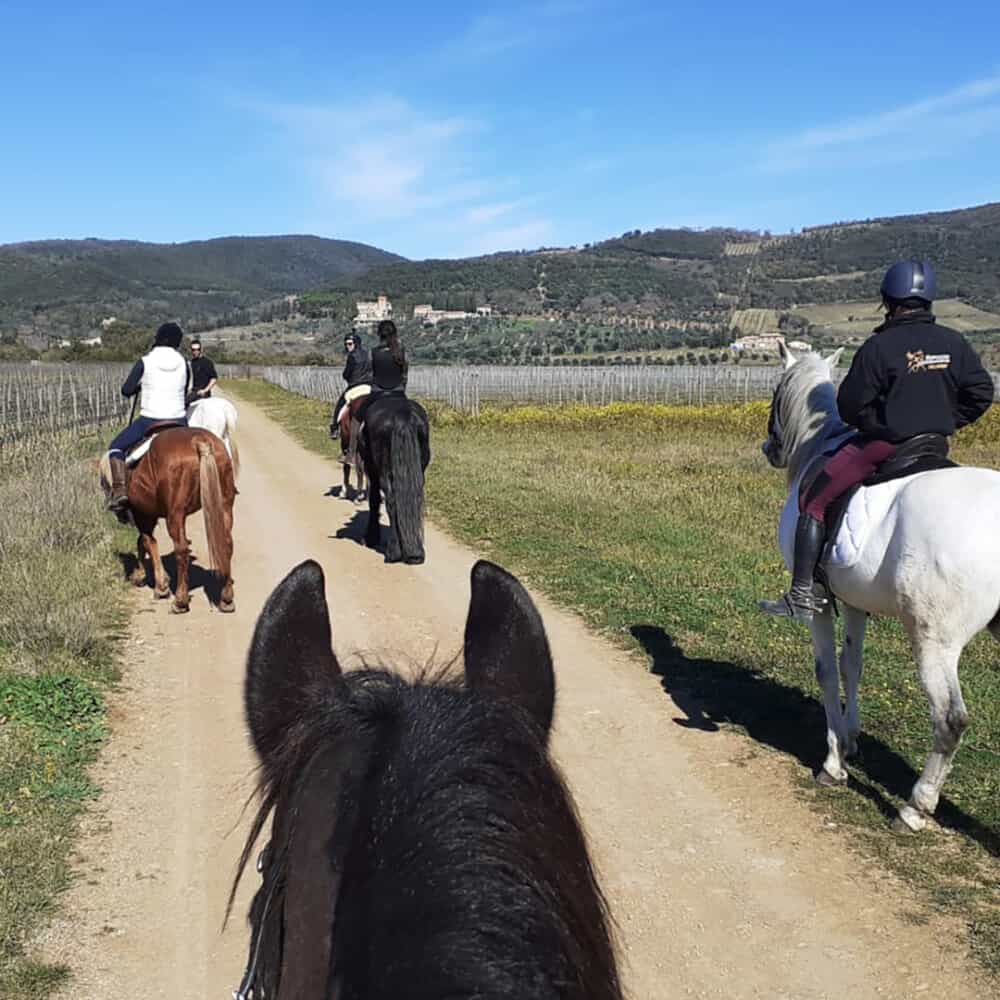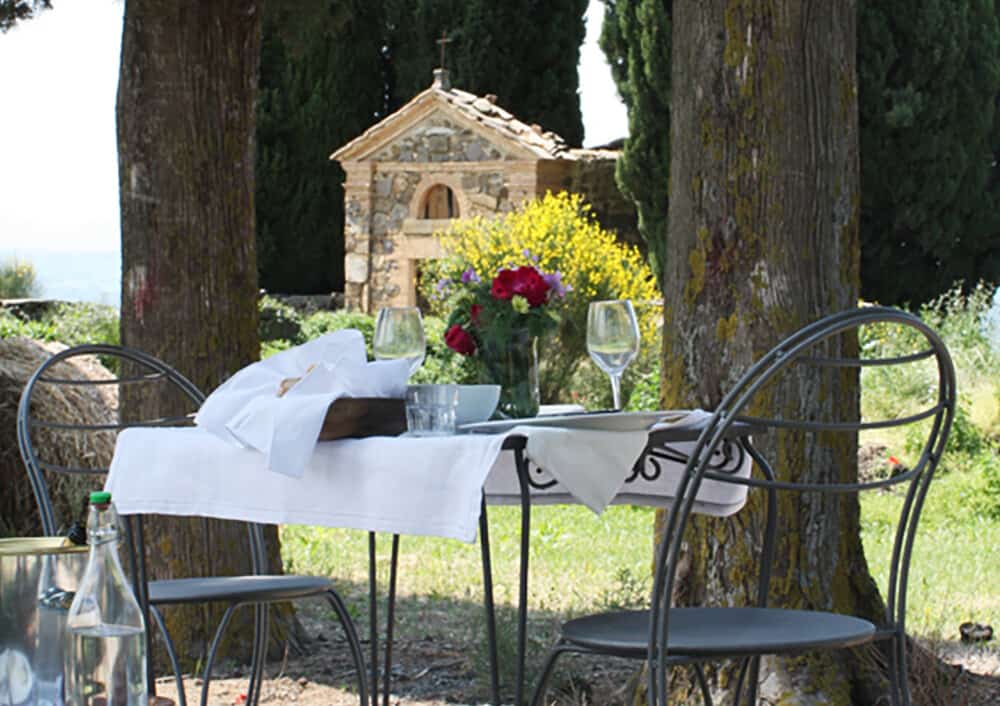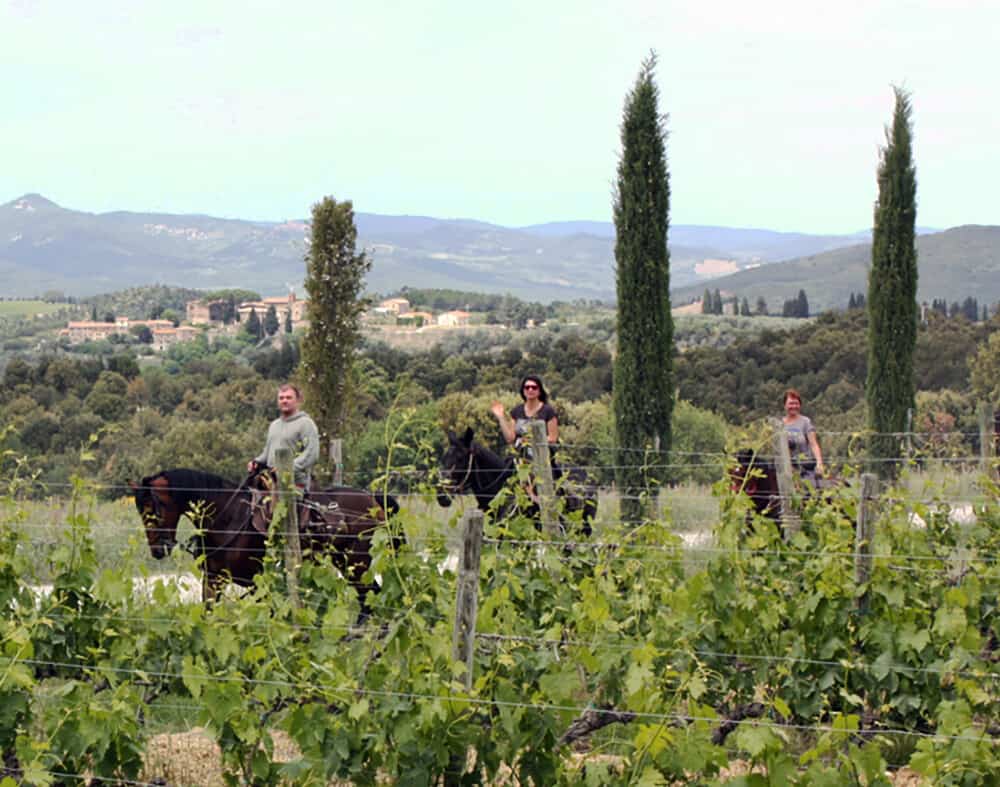 One-Day horseback trekking tour in the Brunello terroir
Ride a beautiful Maremma horse along the rolling hills of Montalcino led by an expert equestrian guide. We will make our way along the famous vineyards of Brunello fording creeks and enjoy the breeze of the centuries-old forests until we reach a small organic winery for lunch.
In the afternoon the owner will guide us through the property to show how Brunello di Montalcino is produced. Finally we will ride back to the starting point following a different path to close our ring around Montalcino on horseback.
We first came up with this tour in 2009, and subsequently designed, tested and implemented the Montalcino Horseback Trekking Tour through the vineyards and the terroir of Montalcino.
We opened horseback trails, connected existing paths, old fords, and cleared difficult passages. Nowadays, we are able to offer short and long rides throughout the charming territory of Montalcino.
Our trekking tours are wonderful excursions, unique both in the quality of the Maremma purebred horses and the western leather harnesses in addition to the great attention to detail and personalization that characterizes every tour.
Our horseback riding tours are always different depending on the season, temperature, fords, and weather.
What's included
bilingual (Italian and English) equestrian tour guide
purebred Maremma horse or equivalent
light lunch by the farm or gourmet pic-nic in the fields (basing on the weather)
guided winery tour with tastings of IGT Toscana, Rosso and Brunello di Montalcino
24/7 on-call assistance
What's not included
Transfer from/to your accommodation (available as an extra. Contact us)
gratuities
The starting point is in a very small hamlet of Montalcino on the southwest mountainside. Passing through the vineyards of the most famous wineries of Montalcino and a forest, we arrive at Poggio Civitella, the ancient Etruscan site on the top of the Montalcino hill.
Following the dirt roads, we stop at an organic wine estate for a guided tour of the cellar led by the winemaker with tasting of Brunello and Rosso di Montalcino. We will be introduced to the Montalcino terroir and the basics of winemaking .
Back on the saddle in the afternoon, we ride on to the magnificent Sant'Antimo Abbey for a look around and may have the chance to hear the monks singing Gregorian chants depending on the time. From here, we take another path through forest to arrive at a location on the hilltop with a special view over the landscape, and, while the horses rest, we will enjoy a light lunch in the outdoors including crudités and extra-virgin olive oil "pinzimonio", Tuscan cured meats and cheeses, as well as homemade bread and cake.
In the afternoon, we go down to the famous Sesta backroad on the south side of the Montalcino hill to ride towards the hamlet of Sant'Angelo in Colle. After seeing this beautiful village, we head back to the west side of the Brunello region passing by both the Argiano and Banfi Castles and finally gallop back to our starting point.
Duration: 1 day, about 6 hours on horseback but we can tailor the tour according to your experience
Maximum number of participants: 4 (up to 8 on request)
Starting/End Point: Montalcino
Level: medium-expert riders
Gaits: mainly walk
Distance: up to 27 km
Environment: dirt roads, paths into the forest, vineyards of Montalcino.
Available: on request from March to November
Food & Wine: traditional Tuscan food, tasting of Rosso and Brunello di Montalcino.
Highlights: Sant'Antimo Abbey, Argiano Castle, Banfi Castle, a Brunello di Montalcino winery, Poggio Civitella Etruscan site
We believe that the deep soul of Montalcino, the Val d'Orcia and Tuscany South, can be felt only through the intimacy and respect of a small group. This is why all our horseback riding trips are designed, created, and optimized for small groups.
This tour includes the rental of horses and an expert local guide who will be your precious companion during your trekking tour in Tuscany.
To participate in our horseback excursions, it is necessary to be able to ride all three gaits.
The horses you will ride are purebred certified Maremma horses characterized by their elegance, reliability, and quality. The type of riding and harness is also Maremma.
This is one of our longer trips on horseback, only suitable for experienced riders who ride regularly throughout the year. Participants must be able to trot, gallop and post.
IT IS NOT SUFFICIENT TO HAVE RIDDEN A COUPLE OF TIMES IN LIFE
If you are not sure of your riding experience, please consider the easier tours: the Horseback Riding and the Horseback Riding & Wine Tasting Tour
The equestrian guide reserves the right to refuse your participation on the tour upon arrival if they believe that you are not sufficiently experienced for riding. This is only for your safety.
When booking one of our horseback riding tours, you agree to the fact that the guide may not accept you even on the day of the tour should they decide that your riding level is not sufficient. This  means that you agree to pay the full amount of the tour in any case.
Horseback riding is a weather-dependent activity, so if the tour has to be cancelled and cannot be rescheduled at your convenience, you will receive a full refund within three working days of the tour date.
REQUIRED ATTIRE: We strongly recommend sporty clothes with proper walking boots and long pants (shorts are not allowed!)
FAQ
I have never ridden a horse in my life. Is this experience good for me?
No, it isn't. This is a tour specifically designed for regular riders. We suggest the basic version of the horseback riding experiences. Please read carefully the notes above.
Can you pick us up in Pienza, Montepulciano, Siena, Firenze, San Gimignano, Chianti, etc.?
Yes, of course. Before booking, we will provide you with a price quote for this extra service.
Pickup Points: Siena, Montepulciano, Montalcino, ask for a different pickup.
Departures: Everyday
Season: From March to November
Pay safe with ...

Would you like to modify this tour or design your own experience in Tuscany?
Let us know your needs and wishes and we will tailor the perfect program for your trip to Italy.