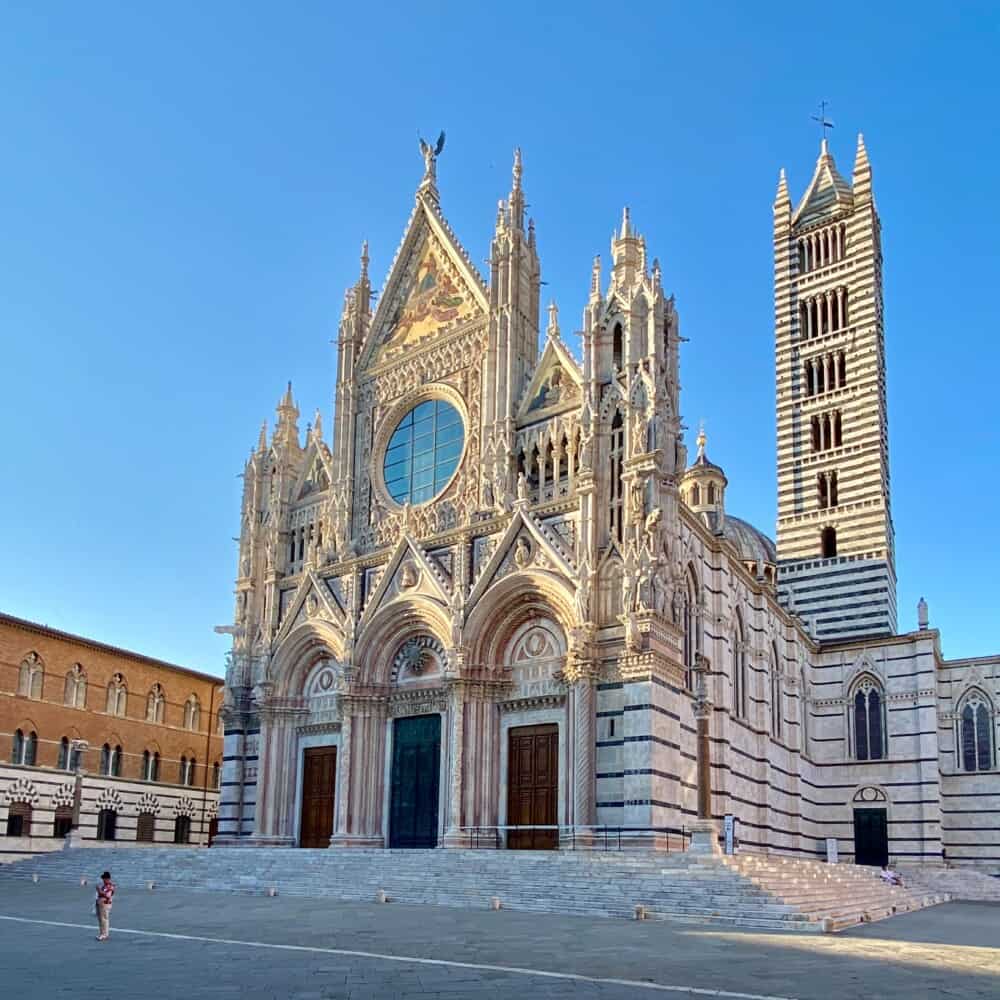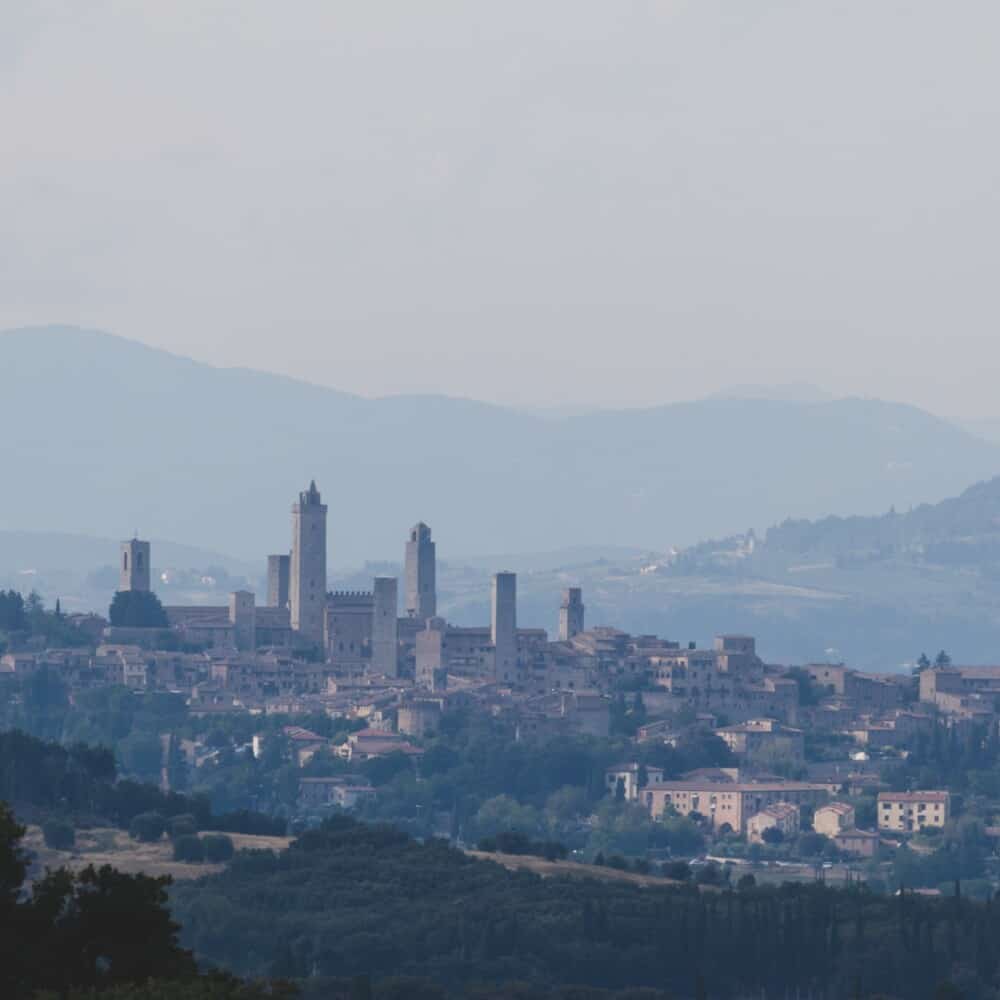 Visit Siena and San Gimignano on this beautiful private day-trip led by locals!
Relax with us in the medieval Tuscan cities of Siena and San Gimignano where time seems to stand still. Direct access to the restricted pedestrian areas in private luxury transportation. Listen to the stories from our expert local guide who will connect the famous sights and views together in a common thread throughout this enchanting day.
Take great pictures from the most gorgeous spots in the countryside while stopping here and there along the rolling hills that you have seen in the movies. We tailor the tour according to your wishes and needs in order to create the best day ever in Tuscany.
For the Siena & San Gimignano Guided Tour we pick you up at your accommodation in the morning by a luxury and very comfortable Mercedes Benz vehicle. On board, free water and wi-fi internet connection is always available. Your English-speaking driver will take care of your requests during the day.
Taking a scenic route along winding roads in the Tuscan countryside, we get to San Gimignano, the famous medieval city south of Florence and one of the main trade centers of the past on the Via Francigena pilgrim route, the Franciscan Way.
Here we meet one of our selected local guides who will take you on a fascinating journey through the art and history of Siena and San Gimignano.
From the main San Giovanni gate where the minivan drops us off, we enter the San Gimignano pedestrian area that has been declared a UNESCO World Heritage Site. Based on your preferences, we can just have a relaxing but informative walking tour of the many piazzas and sights or visit the Duomo or the Civic Museum or even climb the Torre Grossa, the tallest of the 13 towers that have survived throughout the ages.
Finally, if you like, you can spend some free time exploring the narrow lanes on your own or do some shopping in the artisanal shops of the village.
For lunch, there will be a table reserved for you at one of our favorite traditional restaurants in town where you can order some of the world-famous Tuscan dishes, some of them also prepared with "red gold", saffron, that has been meticulously cultivated on the farms of San Gimignano   for centuries and was also used as an exchange currency during the wars between Siena and Florence.
Thanks to our special driving permits, we save a lot of time in the afternoon being able to drive you directly to Piazza del Campo, the heart of Siena, with its City Hall, Palazzo Pubblico, and the famous majestic tower, Torre del Mangia. The main building hosts the Civic Museum, a coffer of treasures and paintings in the Sienese Gothic style.
As always, we are flexible and we let you choose what you prefer to do: more sightseeing, just walking around taking pictures, a proper guided tour led by our guide or a climb up the 500 steep and narrow steps to the top of the tower which offers a unique and breathtaking view over the Tuscan countryside on a clear day.
Just a few minutes away there is also Piazza Duomo with its Cathedral, the Santa Maria della Scala museum, and the Museo dell'Opera: three must-see monuments in Siena. We can decide to visit one of them or simply sit in front of the magnificence of the facade of the Cathedral surrendering to its charming beauty, or sip a coffee at one of the small cafés like locals love to do with friends.
Siena is also another great location for an afternoon of shopping. Our guide will be able to suggest the best spots or even accompany you from shop to shop if you like the idea of having some extra help and more suggestions.
At the end of the day, our driver picks you up right here and takes you on a comfortable drive back to your hotel.
What's included
private local guide specialized in art, history, and local traditions for the whole day
private transportation in a luxury, fully licensed Mercedes Benz vehicle with a/c, free water, and wi-fi on board
local fluent English-speaking driver
private guided tour of San Gimignano and Siena
reservation for lunch at a top restaurant in Siena or San Gimignano (order a la carte and pay directly on the spot)
What's not included
Tickets for museums and other monuments. If you prefer to avoid these sights, we will tailor the tour with alternative routes
FAQ
Can you pick us up at the agriturismo, hotel in the countryside, Pienza, San Quirico, Montepulciano, etc. ?
Yes, of course. Before booking, we will provide you with a price quote for this extra service.
Is the tour available in Spanish, German, Norwegian, Mandarin, etc. ?
Yes, of course. Contact us in advance in order to get you the best guide from our portfolio of collaborators.
Pickup Points: Florence, Montepulciano, Montalcino, Pienza & Val d'Orcia, Pienza, ask for a different pickup.
Departures: Everyday
Season: All year long
Pay safe with ...

Would you like to modify this tour or design your own experience in Tuscany?
Let us know your needs and wishes and we will tailor the perfect program for your trip to Italy.