The land around Montalcino is particularly suitable for wine production. In fact, not only the famous Brunello is produced here, but also Rosso di Montalcino, Moscadello, Sant'Antimo, and Vin Santo.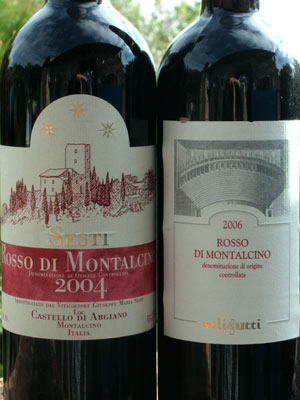 Rosso di Montalcino DOC
The winemakers' need to produce an easier and also cheaper wine than Brunello di Montalcino gave rise to Rosso di Montalcino. This is the second wine from Montalcino for its reputation, quantity, and quality.
It's only produced inside the municipality of Montalcino with pure Sangiovese. Same grape and same territory, but different rules mostly as far as the ageing is concerned. Rosso can be put on the market just one year after the harvest, but most producers prefer to keep it in wood for 6-12 months and to release it after 2 years.
It can be produced from vineyards registered for Rosso di Montalcino but also from declassifying Brunello di Montalcino. Of course, Rosso can't be upgraded to Brunello!
Because of the short or zero ageing in wood and the frequent use of grapes from the youngest vineyards, Rosso di Montalcino is not usually suitable for a long aging, but it can easily resist for 10 years.
It is often a valid alternative to the more demanding Brunello for occasions that require a less structured and more drinkable wine or when you want to experiment emotions and fragrances of a tender-aged Sangiovese. Freshness, fruitiness, and drinkability are, in fact, the most important characteristics that make this wine popular all over the world.
You can enjoy a glass of Rosso to accompany a simple pasta with tomato sauce, but it gives its best with pork, beef, and also medium-aged cheese.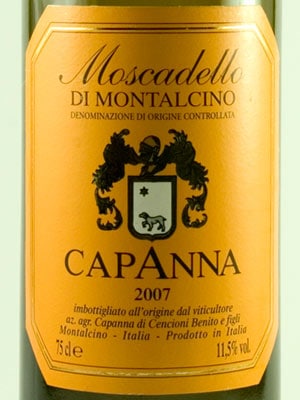 Moscadello di Montalcino
Montalcino, land of Sangiovese, was already famous in Italy in the 1500s for a sweet wine called Moscadello. Made from the Moscato grape, it can be produced in three different types, frizzante (sparkling), tranquillo (still) and vendemmia tardiva (late harvest). It is one of the few wines that can be paired with ice-cream (!) and the late harvest is also excellent with cheese.
The late harvest is the only one that must be aged minimum two years of which one must be in a wooden barrel. Only produced within the territory of Montalcino and nowadays only by a few wineries with a very limited number of bottles, it is no longer popular but is appreciated by lovers of this kind of wine.
Sant'Antimo DOC
The Sant'Antimo DOC wine began in 1996 to give a name to a rigorous classification of viticulture that exists beyond the realm of the traditional Sangiovese in Montalcino. It is a broad denomination that includes different types of wines, both red and white, obtained by very diverse vineyards among those authorized in Tuscany but only with grapes cultivated within the municipality of Montalcino.
"International" varieties such as Cabernet, Merlot, Shiraz, Petit Verdot can be mixed or vinified as single varietal wines: even the same Sangiovese used to produce Brunello or Rosso di Montalcino can be marketed as Sant Antimo. For the Sant'Antimo white, the most common grapes are Chardonnay, Sauvignon and Pinot Grigio and local grapes such as Trebbiano and Malvasia.
It is also possible to produce Sant'Antimo Vin Santo with white grapes (Trebbiano and Malvasia) and Sant'Antimo Vin Santo Occhio di Pernice with red (Sangiovese and Canaiolo), also Reserve. Vin Santo is a very traditional Tuscan dessert wine. There is also a dry type usually served as an aperitif. You will always find a bottle of Vin Santo in Tuscan homes because it is the wine of friendship and hospitality and it is served to friends and relatives when they come to visit you!